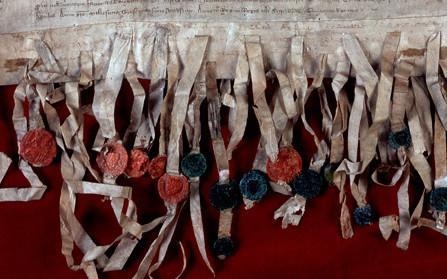 Love history? Does learning about what's gone before inspire your travels and life? Me, too. And there's a new online database that gives an extraordinary glimpse into the medieval History of Scotland.
The 'People of Medieval Scotland' is a database of the 21,000+ people mentioned in the 8500+ documents from Scotland that survive between 1093 and 1314. It has been designed to cater for beginners as well as experts. Learners can explore and discover this pivotal period of Scotland's past on their own terms. Experts can conduct research in days and hours that would once have taken them months. The database also offers learners and experts a new experience of engaging with the past, allowing thousands of individuals and hundreds of places to take centre stage. It is left to the user to decide what is interesting and important.
Special features include:
    A 'lab' space for quick and thought-provoking ways to explore the database
    Gaelic names are identified in their medieval and modern forms
    A multi-faceted search facility
    For experts: special attention to the form of documents
The database contains all information that can be assembled about every individual involved in actions in Scotland or relating to Scotland in documents written between the death of Malcolm III on 13 November 1093 and Robert I's parliament at Cambuskenneth on 6 November 1314. The bounds of the kingdom of the Scots changed during this period; for the sake of consistency, the database covers all the territory that had become part of Scotland by the death of Alexander III. (This means that the Isle of Man and Berwick are included, but Orkney and Shetland are not.) Also, the database is not simply a list of everyone who is ever mentioned. It is designed to reflect the interactions and relationships between people as this is represented in the documents.
The database is the outcome of two projects funded by the Arts and Humanities Research Council: the 'Paradox of Medieval Scotland, 1093-1286: Social Relationships and Identities before the Wars of Independence' (www.poms.ac.uk) and the 'Breaking of Britain: Cross-border Society and Scottish Independence 1216-1314' (www.breakingofbritain.ac.uk), a collaboration between the Universities of Glasgow, Edinburgh and Lancaster, and King's College, London.
Learn more!
Feature photo: Seals attached to the Declaration of Arbroath (1320). Photo courtesy and copyright National Archives of Scotland
All information contained herein provided by the People of Medieval Scotland
Dig into Scotland's Medieval History
Written by Jessica Voigts