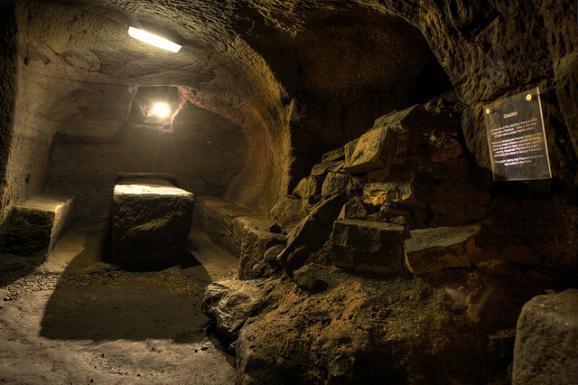 Beneath the streets of Edinburgh lurks a labyrinth of man-made tunnels that were originally designed to hide clandestine activities from the light of day. Once a refuge for everyone from renegade kings to common criminals, this subterranean network has recently been rediscovered and renovated by modern-day entrepreneurs into fascinating venues for everything from sizzling parties to chilling ghost tours.  
To fully embrace the Scottish experience, use HostelBookers.com, to book budget but traditional, family-friendly accommodations, like the Northumberland Hotel with cozy rooms and hearty breakfasts.
Down in a hole
You might not be able to raise the roof at Edinburgh's underground bars, but you can certainly dig deep and party hardy! The Caves, tucked away under South Bridge on Niddry Street, creates an intimate ambience by lighting the tables with candelabras and the stone barrel roof and glistening walls with luscious pastel shades. Open only for headline acts and private parties -- seize any opportunity to experience this delightful venue. Get ghoulish at the Banshee Labyrinth, Scotland's most haunted pub, where their "dine with the dead" menu features battered haggis balls dipped in a whisky sauce and a chili burger called the Texas Chain Saw Massacre. Be entertained by Edinburgh's die-hard weirdoes during open mike sets and cut loose on their hell-raising theme nights.
Photo courtesy of Banshee Labyrinth
Deep Dining
Bring a whole new meaning to "chowing down" when you dine in one of Edinburgh's underground restaurants. For an intimate evening underground, climb down to the Divino Enotecta Italian restaurant to enjoy a delicious meal while marveling at their ingenious computerized corking station that allows them to pour wine from the bottle without actually uncorking it, making it possible to sample a wide range of delightfully different vintages. The Basement is a local favorite where you'll be served Scottish-style Mexican food by waiters in loud aloha shirts. This sense of humor extends to touches like mismatched cutlery and the dim lighting gives it slightly naughty ambience. Find locations and venues on Yelp.
Photo courtesy of Divino Enoteca
Dwellings of the Dead
Encounter lingering dark spirits still haunting Edinburgh's underground vaults on ghost tours that plunge into the undeveloped chambers where dark deeds have left their mark. Popular services like Mercat Tours have public or custom-made private walking excursions into creepy tunnels, ancient crypts and dens of bygone debauchery with knowledgeable guides who send chills up your spine with their tales of spectral visitations, mischievous poltergeist and demonic doings. At the Real Mary Kings Close, curators have created an interactive gallery room where state-of-the-art technology brings the dark secrets of Edinburgh's hidden history to life.
Photo courtesy of Real Mary King's Close
Un-Earthed
On the outskirts of town just off The City of Edinburgh By-Pass you'll find the village of Gilmerton, where a fascinating man-made underground network mines (or tunnels, no one knows) is now open to the public, who are invited to speculate on the mysterious Glimerton Cove. Of unknown age or origin, these purposefully crafted chambers have been rumored to be the site of ancient rituals, perhaps by the Knights Templar or other secret societies that once flourished in Scotland. Just a stone's throw from Old Town stands the majestic volcanic outcrop known as Arthur's Seat where marvels like the mysterious miniature coffins have been discovered in caves by the locals, and legends say secret tunnels lead to the mystical Holyrood Palace. Take a day trip to Midlothian to explore Wallace's Cave while hiking through Roslin Glen (site of the infamous Roslyn Chapel) and see if you hear mysterious singing as many past visitors have reported.
Photo of Arthur's Seat Coffins, Courtesy of the National Museum of Scotland
Written by Jessica Voigts