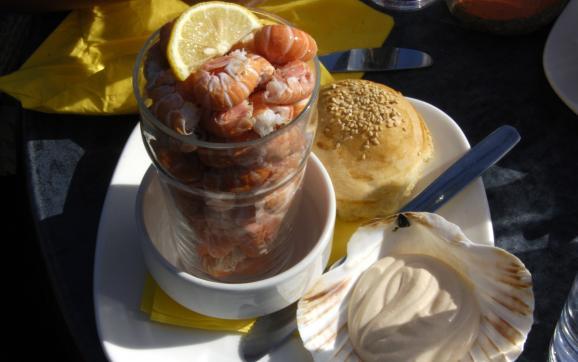 Picture this: a gorgeous warm late September day, on Mallaig Harbor, Scotland, with dear family friends, and an incredible meal. Yes - it was the quintessential perfect day, replete with time on a sandy beach while the tide was coming in, viewing the beautiful Isles of Skye, Rum, and Eigg.
Dining at the Tea Garden (*the place to eat* according to their sign!), we found an outdoor table, to further enjoy the fine weather.
Harborside, surrounded by huge pots of flowers, we were accompanied by both bees and the European trend of canine dining companions. Although the menu was extensive, I decided on the pint (!) of fresh Mallaig Harbor prawns. How could I not? They arrived piled up, with a slice of lemon and a yummy sauce in which to dip them. I have to be honest, though - the shells were really poky and hard, but worth every effort as they were the best prawns I'd ever eaten! Fresh, with a bit of salty tang, they were extraordinary. Never, never to be forgotten.
Excerpted article - read the rest of this delicious goodness at:
https://www.wanderingeducators.com/best/traveling/foodie-finds-place-eat-mallaig-scotland.html
>