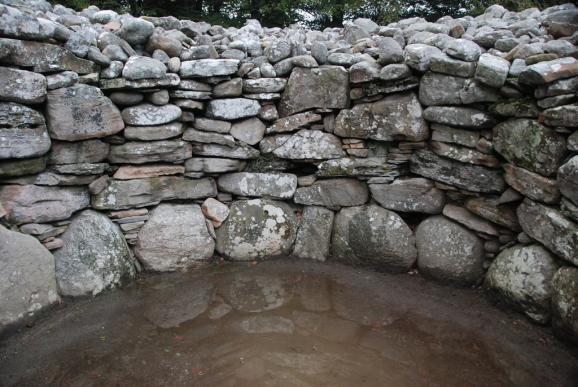 Are you intrigued by the Standing Stones in Scotland? Recumbent stone circles? Paths of the sun? Have I got a film for you! It's called Standing with Stones, and covers England, Wales, Ireland, and Scotland.
What does archaology have to teach us about history and mythology in Scotland? Read on..
"Over two years in the making, Standing with Stones was made by just two men with great film making skills, a camper van and a passion for the monuments in stone left to us by Neolithic and Bronze Age ancestors. The result is a remarkable feature length documentary film that take the viewer on a journey of discovery, uncovering the true extent and variety of megalithic Britain and Ireland."
Clava Cairns
In this film, Rupert Soskin utilizes a lifetime of work in archaeology, anthropology, and evolutionary psychology in his amazing narrative and thoughts. Michael Bott, Shakespearean actor and filmmaker combines his experience in tv, video, and acting with his interest in megalithic sites. Together, these men have created an incredible way to learn about stone circles in these areas.
There's also a book! Published by Thames & Hudson, Standing with Stones, a photographic journey through megalithic Britain & Ireland is a guide to many of the lesser known sites. You can learn more here: http://standingwithstones.net/the-book/
Standing stone, Clava Cairns
We've visited the Clava Cairns near Inverness, and were completely amazed. They are featured in episode 7!
3 of the 7 episodes feature Scottish sites:
Episode 5, Isle of Man and N England, features Tynwald Hill, Mull Hill, Cashtal yn Ard, Arbor Low, Rudstone Monolith, Sunkenkirk, Caslerigg, Long Meg.
Episode 6, Scotland, features Twelve Apostles, Cairnholy, Glenquicken, Achnabreck, Cairnbaan, Ballymeanoch, Great X, Nether Largie, Templewood, Leys of Marlee, Cothiemuir Wood, East Aquorthies, Loanhead of Daviot, Old Kieg, Midmar Kirk, Sunhoney, Clava Cairns.
Episode 7, the Scottish Isles, features Callanish, Grey Cairns of Camster, Maes Howe, Ring of Brodgar, Stenness, Skara Brae, The Tomb of the Eagles.
 
Take a look at episode 6:
Standing with Stones - Part 6: Scotland from Michael Bott on Vimeo.
Note: This film was made over two years in 2006/7. It is available to watch in its entirety here for free but if you enjoyed the film and would like to show appreciation, any donations via the tip jar on the website would be welcome.
To watch the videos in full, learn more, and see some outtakes, please head to:
http://standingwithstones.net
Interested in learning more about cairns? Read my interview with geologist David B. Williams, author of Cairns: Messengers in Stone.
Clava Cairns
All photos courtesy and copyright Dr. Jessie Voigts
Scotland: Standing with Stones
Written by Jessica Voigts