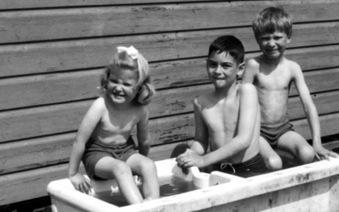 Can you imagine heading to Scotland - cold and foreign - after a life in India? What would it be like, to adapt interculturally to an entirely new place? Such is the story that Max Scratchmann, author, artist, and performer, shares in his book, Scotland for Beginners. It's at once a time capsule of life in 1960s Scotland, and a personal story of adapting and learning to love - and thrive -  where you are. I loved reading chapters on food, movies, friends, school, singing (and a lack of talent), and more. Told with humor and grace, this memoir is extremely readable - you'll find yourself laughing out loud more than once, wincing in despair, urging young Max toward greater heights. You'll cringe at the aunties, and the trouble he gets in, and admire his perseverance. It's a life well-told - and we can't wait to read the next chapter.
We were lucky enough to catch up with Max, and ask him about his book, inspiration, returning to Scotland, and more. Here's what he had to say...
Please tell us about your book, Scotland for Beginners...
Scotland for Beginners is a collection of autobiographical short stories based on my childhood experience of being brought "home" to Scotland in the early 1960s, after having been born and brought up in India.
What inspired you to write this book?
My father went out to India in the late 1930s and worked there for nearly forty years until the early 1970s, and both my sister and I were born out there, so it was a huge culture shock for us when we were brought "home" for the first time.  I'd already written a very popular book about my life in India - The Last Burrah Sahibs - but I felt that there was a gaping hole in the story and that I really needed to talk about my early years in Scotland is well.
My publisher felt that it made the original narrative too long, but all these great stories kept bubbling up inside my head, so I just wrote them all down and this book was born.
First summer in Dundee
How did returning to Scotland in your childhood affect your sense of place, of home?
It was very confusing and very, very alienating.  Everything that I was used to and considered normal was missing.  India was loud, hot and extremely colourful.  Scotland, at the time, was reserved, very cold and seemed to be coloured in just shades of grey.  (I've seen photographs from the time, and, of course, it wasn't, but it's how it seemed to me as a child.)
I'm now a visual artist and my early years in India were very influential on me, particularly on how I light and colour images, and, as a child, I felt very cut-off from all that sunshine and noise when my parents returned home, but, as I grew up, I learned to appreciate the east coast's more subtle colour palette and I soon discovered other fascinating places to inspire me.  Theatre, for example, and being taken to old musical halls where there were Victorian back-cloths still in use, not to mention all those gilt-tinted statues and mouldings of the buildings themselves.
Age 3, Barnagore, India
In shorts suit, Dundee
You're a storyteller extraordinarie - what's up next for you?
I'm currently illustrating a very spooky children's book (that I haven't written) and then I plan to write another autobiographical piece - tentatively entitled Moving Picutres - about my life-long love affair with cinema in all its forms.
On the beach, age 17
Is there anything else you'd like to share with us?
Well, for those of you coming over to Scotland I'm performing my story-telling one-man-show about my Indian years at the Edinburgh Festival, plus I'm also the featured guest poet in a show called Animals which is being presented by the very talented Scottish poet, Alec Beatie.
Show times:
The Last Burrah Sahibs
The secret life of the Scots in India.  
Fridays 9th, 16th and 23rd August
5:15 pm - 6:15 pm
Downstairs at The Fiddlers Elbow
4 Picardy Place, Edinburgh EH1 3JT
and
Monday 19th August  5-6 pm
Serenity Cafe, 8 Jackson's Entry,
111 Hollyrood Road, Edinburgh EH8 8PJ
Wednesday 7th August
12:15 pm to 1:15 pm
Downstairs at The Fiddlers Elbow
4 Picardy Place, Edinburgh EH1 3JT
To learn more about Max's books, and art, please see: http://www.scratchmann.co.uk/