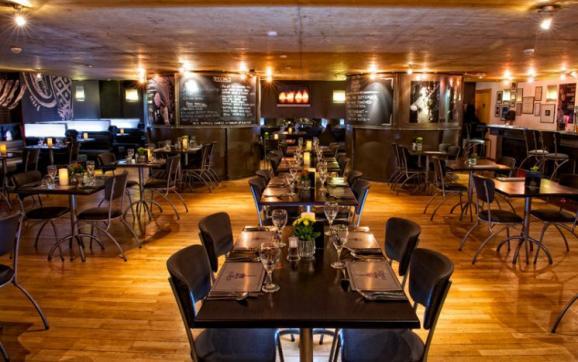 Note: Sad to report that Cafe Source at Saint Andrew's in the Square ceased operation at the end of January 2020 as the building has been put up for sale by their landlord and they were asked to vacate.
The Cafe Source  folk have two other restaurants in Glasgow, though, Cafe Source Too in the west end and Niven's Cafe in the south side. At this writing, the future use of Saint Andrew's in the Square is uncertain.
Cafe Source is a bit of a hidden gem in the Glasgow restaurant scene -- it's located in the basement of Saint Andrew's in the Square, just east of Merchant City.
Saint Andrew's in the Square was built as a house of worship in the eighteenth century. It's been renovated into a center for  music, dance, and arts based in the culture of Scotland. Artists and attendees taking part in these events naturally find their ways to the source of that scent of home baking and roasting meat as they walk down the stairs, but there is an outside entrance also, and the cafe serves food through the day and into the evening, whether events are going on in the main hall or not.
It's well worth a visit for the locally and regionally sourced food, which might include roast chicken and lamb, haggis (both vegetarian and for meat lovers), vegetables with a glaze of Scottish honey, a tasting plate of the cheeses of Scotland, and that traditionally Scottish raspberry filled sweet cranachan. Whisky and wine are on offer, as well, along with coffee and tea. Where possible, everything is sourced from nearby growers, farmers, and producers, and it's all prepared with care - and service is welcoming. For Glasgow, the prices are generally quite welcoming, too.
This article was originally published in 2013 and updated in 2020.