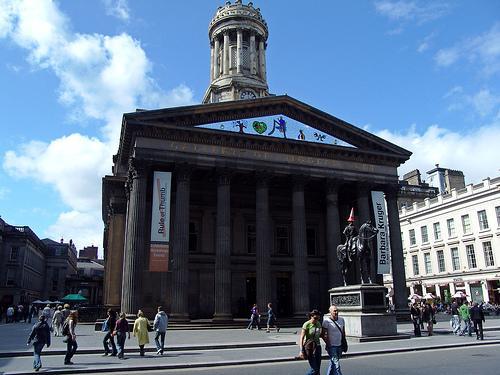 Glasgow is the second largest city in Scotland, and is chock full of great things to see, do, hear, and eat. And, there is plenty that you can do that are no cost - which is a helpful respite on your budget - and by saving money, you'll be able to experience MORE of Glasgow!
    
Kelvingrove Art Gallery & Museum
Re-opened in 2006 after a multi-million pound refurbishment, Kelvingrove favourites include a Spitfire LA198 from the 602 (City of Glasgow) Squadron – hanging from the roof of the West Court – the Charles Rennie Mackintosh gallery and collections of unique and significant artwork, artefacts and treasures from Scotland and around the world.
    
The Burrell Collection
Amongst over 8,000 diverse objets d'art are important collections of Oriental art, 19th century French paintings and sculpture by Epstein and Rodin.
    
People's Palace & Winter Gardens
The People's Palace & Winter Gardens tell the story of Glasgow from 1750 to the present day. Outside the museum, stands the spectacular Doulton Fountain – the largest terracotta fountain in the world.
Gallery of Modern Art (GoMA)
Housed in an elegant 18th-century neo-classical building in the heart of Glasgow, the Gallery of Modern Art (GoMA) offers a thought-provoking programme of temporary exhibitions featuring cutting-edge contemporary work by local, national and international artists.
    
The College of Piping
Established in 1944, the College is Scotland's oldest institution teaching our national music and has a gift shop and museum.
Feature photo of the Glasgow Gallery of Modern Art used courtesy of flickr creative commons: http://www.flickr.com/photos/raymccrae/58220157/