oute 66, Going to the Sun Road, The Wild Atlantic Way: classic travelers'  routes all. The folk of the North Highland Initiative would like to add another to that list: North Coast 500. 
North Coast 500 is a route that runs around Scotland's north country, beginning in Inverness and heading west, eventually heading back eastward around Scotland's far north mainland, through the areas of Wester Ross, Sutherland, Caithness, Easter Ross, Black Isle, and back to Inverness. The North Coast 500, like the Wild Atlantic Way along the western coast of Ireland, is not a newly built highway but rather a cooperative effort of signage, stories, events, communities, and businesses along the route meant to share and promote the natural beauty, continuing heritage, and ongoing development of the area.
You will find castles here, as well as miles and miles of beaches with both quiet bays and crashing surf. There are distilleries and golf courses, the chance to see salmon leap, and on a quiet night have a clear view of the northern lights. There are buildings which date from Victorian times and remnants of the lives of those who lived in this far north country before history was written down, as well as crofts abandoned by those who were forced out during the Highland Clearances, and marks of Viking times and the area's long connection with Nordic lands. Museums will tell you these stories, and so will the landscape, through its lochs, waterfalls, bogs, rocky cliffs, hills, and mountains -- and so will the friendly people who invite you to share their love for their home area.
Destitution Road, taken from the summit of Bidein a' Ghlas Thuill (An Teallach).
Bone caves at Inchnadamph inside the North West Highlands Geopark
Puffin at Dunnet Head
As you begin your journey learning about the North Coast 500, take a look and a listen to an excerpt from musician Mairearad Green's composition Passing Places. She comes from Achiltibuie, north of Ullapool in Wester Ross.
The route heading west out of Inverness will guide you before long to Ullapool, a site across the years involved in both the fishing industry and in tourism. The town was a home for fisherfolk and became a summer resort in Victorian times. It is a lovely town in its own right, and is a gateway as a ferry port for the Western Isles and as an entry point to regions further north and more remote on the North Coast 500 route. It is also one of a number of places -- Cape Wrath, Wick, and Thurso among them -- which take their names from Norse connections in the region.
Ullapool
The area north of Ullapool all the way up to near Tarbet is filled with mountains and hills, among them Cul Mor, Suilven, Quinag, Stac Polly, Ben More Assynt, Ben Stack, and Foinaven. It was near Assynt (whose name comes from a Norse word meaning rocky) that geologists in the mid 1800s first began to understand how some of the dramatic geologic changes that shaped the crust of the earth thousands of years ago worked. You will see the effects of some of this change in an area called the Moine Thrusts, and can learn more of geologic history at the Assynt Visitor Centre.
Gruinard Bay
Cul Mor, Suilven & Canisp from N.E. of Stac Pollaidh
Loch Ewe
Further north still is Cape Wrath, the far northwestern point of mainland Scotland. The name comes from the Norse word harvf, meaning turning point. This area has been indeed a point of navigation in rough seas for centuries. There is a lighthouse (now automated) which was built by writer Robert Louis Stevenson's grandfather. 
Looking out from Smoo Cave
Northern Cairn at Camster
The part of the North Coast 500 which travels along the topmost part of mainland Scotland will show you beautiful beaches leading to cliffs and inland valleys and moorland. Just outside of Durness, you'll find a crafts village where you may meet with artists, and in Durness there is a croft where a young John Lennon of Beatles fame spent summers with his aunt.
At Bettyhill, a stop at the Strathnaver museum will let you in on another aspect of the history of the area: the early nineteenth century when small farmers -- crofters -- were driven from their homes so landowners could have the land to graze sheep. This history is present all around the north: you may see remains of abandoned crofts as you travel the eastern part of the route, and at Helmsdale, there is a statue honoring emigrants from the area.
The Allt na Still waterfall at Taagan has a bad habit of drying up
Highland coo
There are castles here, too. The Castle of Mey, high up in the northeastern corner, and Dunrobin castle, about halfway down the eastern coast, are the best known. Mey was the holiday home of Queen Elizabeth the Queen Mother for more than fifty years. While she remains one of Britain's and Scotland's most beloved figures, Dunrobin was home to the less universally beloved Duke of Sutherland, who ordered most of the Highland Clearances. Though parts of that castle date back to the 1200s, much of the French Gothic style building is from the mid nineteenth century.
That is getting a bit ahead of the route, though: before you come to the Queen Mother's former castle, there is Thurso. It was a trading town and port of call in Viking days, and today, among other things it attracts those who wish to test their surfing skills against the waves of the Pentland Firth, as well as those who wish to cross the Firth to go to Orkney. A bit off the road is Dunnet Head, where you can walk to the most northerly place in the British Isles.
St Peter and St Andrew's Church, Thurso
Loch Broom Light
Turning southeast, you will come to Wick on the eastern coast. The Wick Heritage Centre will fill you in on the area's backstory, with material including complete herring boats and extensive collections of photographs. Great Britain's northernmost distillery Old Pulteney is in Wick, too, and offers tours.
People have been coming to and living in this area of Scotland for thousands of years, and you can see evidence of this in the Grey Cairns of Camster, near Wick. They date from 4000 to 2500 BC. Nearby the cairns is the Hill o' Many Stanes, fan-shaped rows of stones whose purpose is uncertain and which are believed to date from about 2000 BC. In a rather more remote area north west of Lybster along the northeast coast are the Achanvanich standing stones, making an atmospheric place which calls forth ideas of ancient people but about which little is known. As you venture inland from the coast road, you will be in what's called Flow (pronounced to rhyme with cow, from the Norse word for marsh) Country, a rolling area of blanket bog moor which forms its own unique landscape.
Spring Water  On the path to the bone caves, Route 500
This eastern part of the road will show you fine beaches, as well, such as those at Dornoch along the Dornoch Firth. There is a well known golf course at Dornoch also. If you follow the waters inland along the River Shin, the falls of Shin will reward you with the chance to see salmon leap in summer time, as well as a group of prehistoric chambered cairns near Lairg and Carbisdale castle near Culrain, which is now a hostel.
Heading back toward to coast, Tain and the surrounding area of what are known as the Seaboard Villages have history going back to the time of the Picts and the standing stones to show it, as well as a long tradition of silversmithing. The Glenmorangie Distillery is in Tain. Inland to the west you'll see rising Ben Wyvs, whose eastern heights remain snowcapped most of the year, and near Balintore on the Moray Firth, you may want to look out for the arresting sculpture of the Mermaid of the North, a memorable work which, it is said by some, leaves Copenhagen's Little Mermaid all in the dust.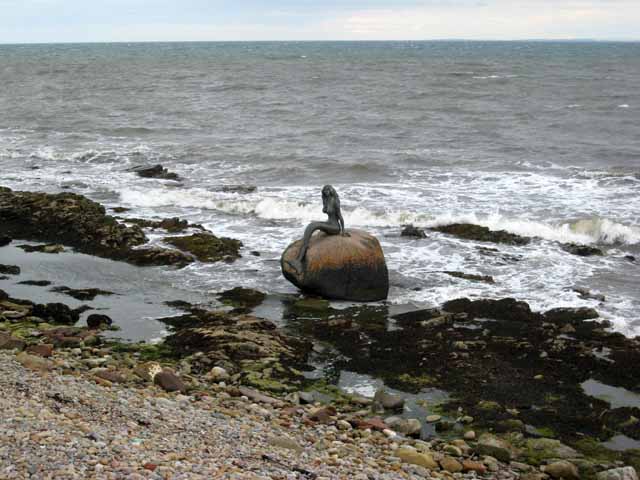 Mermaid of the North
Heading south from Tain you may see North Sea oil rig platforms in for repair in the sheltered waters of the Cromarty Firth. The former Victorian spa town of Strathpeffer, where the pipe band plays in the town square on Sundays in summer, will lead you to Black Isle, a peninsula which holds historic towns and wilderness. There are remains of a thirteenth century cathedral in Fortrose, an artisan brewery in Munlochy, and a fine collection of Pictish stones in the museum at Rosemarkie.
From Black isle, the Kessock Bridge leads back to Inverness, capital city of the Highlands and starting and ending point for the North Coast 500. 
The whole region is home to great music, from musicians including Rachel Hair, Lauren MacColl, Rachel Walker, Anna Massie, Gordon Gunn, and Corrina Hewat, as well as Mairearad Green, whom you met earlier on. There is more to come about this music here at Journey to Scotland. Meanwhile, here's a bit of what Green had to say about the making of Passing Places:
Kerry Dexter is co-founder of Journey to Scotland, where you may often find her writing about places, events, and people connected to music, history, and the arts. You may reach Kerry at music at wanderingeducators dot com.
Find more of Kerry's work in Wandering Educators, National Geographic Traveler, Ireland and the Americas, Perceptive Travel, and other places online and in print, as well as at her site, Music Road.
Note: photos (except those below) courtesy of Alan Jamieson - PLEASE take a look at his photos on flickr - they are amazing!
Destitution Road photo: Hill Walker 
Puffin at Dunnet Head photo: Sylvia Duckworth 
Cul Mor, Suilven & Canisp from N.E. of Stac Pollaidh photo: djmacpherson
Mermaid of the North photo: Oliver Dixon
Northern Cairn at Camster photo: Peter Moore
St Peter and St Andrew's Church, Thurso photo: JM Briscoe