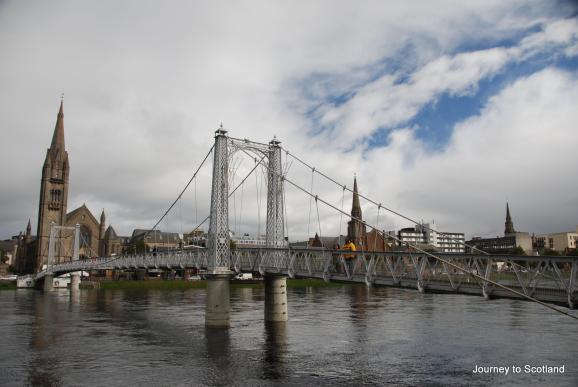 If you're in the Highlands of Scotland – the land of romance, storied history, kilts and bagpipes, Glens and Bens – consider Inverness as your home base for 10 days of exploring Scottish culture, arts, nature, food, and great people.
There is something in Inverness for any family – shopping, great food, a thriving music scene, arts events, history, culture – it is truly the capital of the Highlands. There are castles, a beautiful river, gourmet restaurants galore, and Loch Ness itself…truly something for every traveler. And, Inverness is perfectly located to explore the rest of the Highlands – only a short and scenic drive away.
Where to Stay
For lodging, I'd suggest either renting a home or staying at a B&B. We rented a home on Loch Ness, Inverfarigaig Cottage. It is located about 20 minutes southwest of Inverness – a beautiful location, with a private beach on the southern side Loch Ness and a great yard for playing (that is, if it isn't raining). If you'd like to stay in a B&B, I'd suggest the B&B run by George and Ishbel Strachan. It's located in Glen Affric, an extremely scenic location and 40 minute drive from Inverness (on the northern side of Loch Ness). We first learned about George and Ishbel from Scottish Musician Sarah-Jane Summers, who shared her top tips for the Inverness area with us!
House at Inverfarigaig
Things to Do Near Inverness
Inverness is located in the Highlands of Scotland, on the eastern side of the country.  It is located on the water, and also boasts a river, which connects the ocean with Loch Ness.  Here are my top tips for exploring the area around Loch Ness:
HISTORY: Any visit to the highlands is not complete without going to the Culloden Visitor Centre. Culloden is the site of the battle that changed the course of Scottish, British – well, truly, world history. On April 16, 1746, the Jacobite army fought the British army to reclaim the throne of Britain for Bonnie Prince Charlie. It was an incredibly uneven battle, in which the Jacobites weren't fully prepared, and were starving and cold. A surprise night attack plan failed, and in the day, the exhausted Jacobite soldiers surged to their death.
In 2007, the National Trust for Scotland opened the Culloden Battlefield Visitor Centre – an extraordinary multimedia experience about the battle.  This was the most powerful thing we did or learned in Scotland. Our 8-year-old daughter didn't want to leave – we closed the place down.
Culloden
Just down the road, check out Clava Cairns – bronze age stone burial chambers, where you can clamber about on the stones and BE in history.
Clava Cairns
NESSIE: What trip to Scotland is complete without learning about and trying to spot Nessie, the Loch Ness Monster? The Loch Ness Exhibition Centre is in Drumnadrochit. You can take a boat cruise on Loch Ness, as we did, to see Urquhart Castle and scope for Nessie. We were often watching out the windows of our home, looking for unexplained wave patterns, but didn't catch sight of her ourselves.
Jacobite Cruise, Loch Ness
CASTLES: Besides Inverness Castle and the aforementioned Urquhart Castle, head to Cawdor Castle. It's one of the most visited castles in Scotland, because of the Shakespeare connection (Macbeth The Scottish Play ). And, the Cawdor family still calls it home.
Urquhart Castle
Inverness Castle
DOLPHIN WATCHING: Definitely a hidden treasure! The Wildlife and Conservation Society's Dolphin and Seal Centre is located across the bridge, in North Kessock. You can watch for dolphins, learn about dolphins, follow the dolphin trail, and even hear whistles and clicks through their underwater microphones. It is FREE! We also drove out to Chanonry Point, across from Fort George, for dolphin watching. There's a lighthouse, a beautiful stone beach, and dolphins cavorting!
At Chanonry Point at dusk. Fort George in the distance
HILL WALKING: Scotland is famous for hill walking (hiking). There are survey maps available, plenty of resources online, and the best views in the world. Also make time to see the Falls of Foyers, a huge waterfall located on the southwest shore of Loch Ness.
MUSIC: So vital in Scottish culture! Head to Hootenanny's for a rollicking good time. Drive to Cromarty on the Black Isle, and catch some music at The Old Brewery.
FOOD: Gourmet food abounds in Inverness. On the shores of Loch Ness, the Dores Inn has good food and great views. In Inverness, we loved the Steak Academy (now closed), the Mustard Seed, and the highly recommended River House. I also shopped at Tesco (YUM!) and we cooked many meals at home, exploring Scottish home cuisine and trying new beverages, meat (haggis!), bread, jam, and more.
Dores Inn, Loch Ness
 
When to Go
Of course, Scotland is most tourist-friendly in the summer, when the days are longer and the weather is warmer – and there are more events happening. However, you could certainly head there at any time of year – there's something to enjoy in any season, and it's always beautiful.
The Perfect 10-Day Itinerary (of course, it all depends on the weather):
Day 1: Explore downtown Inverness, possibly taking in Inverness Castle, but definitely shopping, eating well, and exploring the city.  Did I mention shopping?
Day 2: Head to Culloden. There is a café there, so you can spend as much time as you'd like in the centre and on the battlefield. After you're finished, head a few miles down the road to Clava Cairns – even with kids running and playing, you probably won't spend more than 30 minutes there, so it's a good add-on to Culloden.
Day 3: Drive to Chanonry Point and plan on spending the day at the beach. Bring a picnic, practice throwing rocks (it's a stone beach), watch for dolphins, and enjoy being outside in such a glorious location!
Day 4: More water goodness – book a boat tour on Loch Ness. Add in a visit to the Loch Ness Exhibition Centre. If there is time, tour Urquhart Castle. Be sure to be on the lookout for Nessie!
Day 5: Free day to explore (or stay home). There's nothing like reading local papers and watching local tv shows to get a true glimpse of local culture, politics, and more.
Day 6: Time to drive! Head north of Loch Ness and tour Glen Affric. It is FULL of natural beauty.
Day 7: Drive southeast, past Culloden, and tour Cawdor Castle. On your way back into town, stop at Hootenanny's for some local music.
Day 8: Hike! Be sure to get a good local map (or find a guide), and head out on your own hill walking tour.
Day 9: Drive on the south side of Loch Ness. Dine at the Dores Inn (great fish and chips!). Head further southwest, and park by the little café/store and hike down to the Falls of Foyers. Incredible views, beautiful waterfall from the River Foyers to Loch Ness. Keep on driving southwest, and head to Fort Augustus. You'll see the Caledonian Canal – a 60 mile canal which divides the town in half, provides a means for boats to head to Loch Ness, and links Fort William to Inverness.
Day 10: relax, enjoy Inverness, and find some local attractions or restaurants you've missed!
The River Ness (Scottish Gaelic: Abhainn Nis)