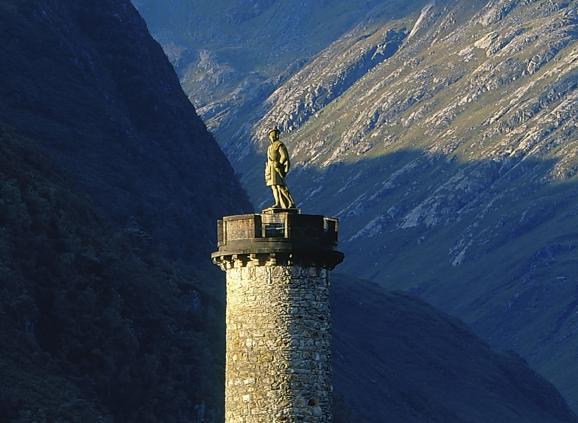 It's not as extreme as the tilt found at the famous Tower of Pisa, but it's been revealed that the Glenfinnan Monument has a slight lean, too.
It has been discovered that the monument erected as a memorial to the Jacobite Rising has a slight lean of around 27 centimetres – this is due to the sandy soil at the foot of Loch Shiel, where it stands. The structure is completely stable though and there is little chance of the lean increasing. At 18 metres high, however, the idiosyncrasy is hardly noticeable, unlike at Pisa where the foot of the famous tower is 3.9 metres out of alignment with the top.
Built in 1815, the James Gillespie Graham-designed monument is a popular stop on the Road to the Isles and for folk finding out more about Scotland's dramatic Jacobite history.
Property Manager Rudy Vandecappelle said:
"We're at the height of the visitor season here at Glenfinnan, welcoming thousands of visitors from Scotland and beyond every week. They all love to hear the story of our leaning tower, although it's not quite on a par with Pisa."
This little-known fact is one of many about Trust properties which have just been published on the National Trust for Scotland's website, as part of a project to revamp the information provided about its properties.
For more examples and to plan your trip, visit www.nts.org.uk.
The National Trust for Scotland is one of Scotland's leading conservation charities, which relies on the financial support of its members to fund its important work of caring for the natural and cultural heritage of Scotland for everyone to enjoy.
You can join the National Trust for Scotland for as little as £5.50 per month for a family. To become a member, visitnts.org.uk/Join/Benefits/.
Welcome to the leaning tower of Glenfinnan
Written by Jessica Voigts