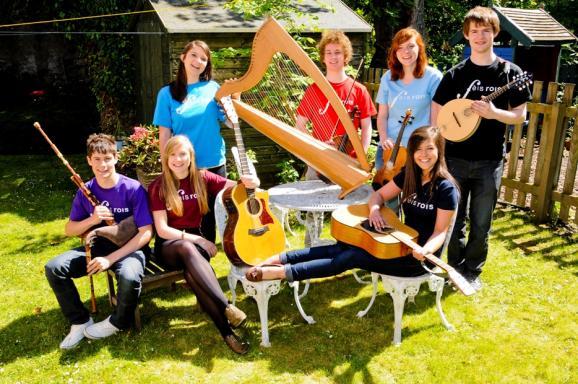 The Cèilidh Trail participants began their summer holidays with a week of training and preparing their sets at Fèis Alba, being held at the Centre of Excellence for Traditional Music at Plockton High School.
This year there are 7 Cèilidh Trails taking place run by Fèis Chataibh - Sutherland, Fèis an Earraich – Skye and Lochalsh, Fèis Lochabair - Lochaber, Fèisean a' Mhonaidh Ruaidh – Cairngorms National Park, Fèis Rois – Ross-shire, Fèis Latharna – Argyll and the Islands and, for the first time, Fèis Fhoirt are delighted to establish a Cèilidh Trail in the Stirling and Trossachs area.
During the fortnight at Fèis Alba, participants had the opportunity to receive training and support from some of the most talented Highland musicians including; Anna Massie, Mairearad Green, Ingrid Henderson, Donal Brown, Mary-Ann Kennedy and Blair Douglas.
Once they completed their training in Plockton, the Cèilidh Trails took to the road, touring local venues and providing events in their own areas.
Photo credit: Clive Grewcock Photography
Arthur Cormack, Fèisean nan Gàidheal's Chief Executive said: "The Fèis Cèilidh Trails provide an excellent opportunity for young people to hone their performance skills and to gain valuable training from some of our top performers. We are very grateful to Highland and Argyll LEADER programmes, Highlands & Islands Enterprise and Creative Scotland for their ongoing support of the Cèilidh Trails."
"Not only do the young people get enjoyment and employment from the Cèilidh Trails, but tourists also get to hear some of our traditional music and songs and they are expected to play in front of at least 6,000 people", he said.
For the latest information and gig listings please visit the Cèilidh Trails website – www.feisceilidhtrails.org or on facebook: https://www.facebook.com/#!/feisean
In another development, Fèis Rois is working with the TMSA to deliver a series of events called Trad Trails to mark the Year of Creative Scotland. Further information can be found about the events at www.tradtrails.org.uk/.
The first Ceilidh Trail project, established by Fèis Rois in 1999, was designed to help teenage musicians develop their performance skills. Since them the Trails have gone from strength to strength with youngsters from seven Fèisean providing a vibrant programme of traditional music throughout the Highlands.
All photos courtesy and copyright  Fèisean nan Gàidheal, except where noted.
Over 100 cèilidhs across Scotland as Fèis Cèilidh Trails hit the road
Written by Jessica Voigts