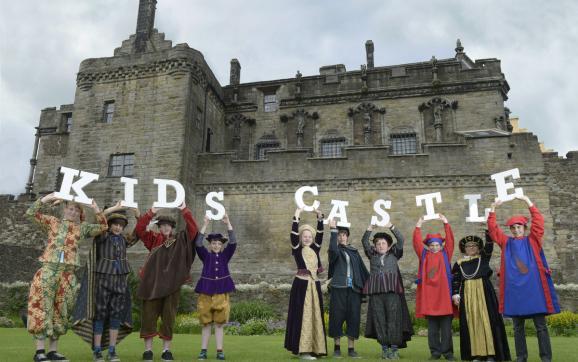 Young visitors to Stirling Castle will be able to learn more about it with a new, interactive section on the Castle's website: Kids Castle. Fun and educational, it is designed to help children and their families discover more about the iconic landmark before, during, and after their visit.
Children will be able to create their own personalised coat of arms, take part in a quiz, or even paint one of the famous Stirling Heads. They will also have the opportunity to learn what life was once like for children in and around Stirling, read stories about castle life, and learn quirky facts about its history. Kids Castle even allows users to upload their own images, videos and stories about their visit.
To celebrate the launch of the microsite, children are being invited to nominate their ultimate Scottish hero via written or video submissions. This can be anyone from historical figures to sportspeople, scientists, film stars, or even fictional characters. Users can nominate any Scot whom they believe deserves to be recognised for their contribution or achievements.
The winner will receive a special VIP day out to Stirling Castle for them and their family which will include entry to the Castle, lunch in the Unicorn Café, and £100 to spend in the Castle shop. In addition, everyone who enters the competition will be put into a prize draw to win a year's family membership for Historic Scotland.
In addition to Kids Castle, there will be plenty of treats in store for young visitors to Stirling Castle this summer. Children's tours will allow intrepid young history hunters to uncover various aspects of Scotland's history from stories of William Wallace and Mary, Queen of Scots to learning how to fire a cannonball or storm the Castle. Family tours start at 2:15pm in the Queen Anne Garden every day in July and August and are included in the castle admission price.
Eleanor Muir, Visitor Experience Manager at Stirling Castle said: "Children love learning about Stirling Castle so we wanted to create a section on our website that's just for them. Kids Castle is educational, but fun and engaging at the same time and we hope that children and their families will use it before, during and after their visit to Stirling Castle to help them get the most out of the experience. From designing their own coat of arms to having a go at painting one of the Stirling Heads, the new zone on the website is designed to make learning about Stirling Castle lots of fun."
Visit www.stirlingcastle.gov.uk/kidscastle for details.
All information contained herein provided by Historic Scotland - thank you!
Stirling Castle Online: Kids Castle
Written by Jessica Voigts