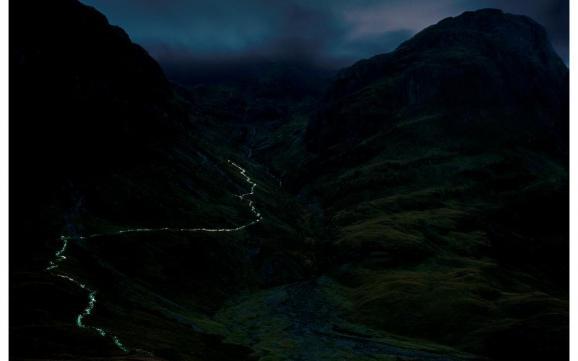 The National Trust for Scotland is sharing a stunning new night-time image of Coire nan Lochan in Glencoe. A brooding sky sits over the summit, while a ghostly glowing trail leads down to the valley below.
Glencoe has a dark past and there are many reports of supernatural sightings in the area, but this image was created by up and coming photographer James Kirk.
The image was created by walking the pathway at night with a torch while the camera was at the foot of the mountain on a long exposure. The resulting image shows the popular footpath to Bidean nam Bian via Stob Coire nan Lochan, which is used by around 20,000 walkers every year.
The work was commissioned as part of the Trust's 'One Wee Step' campaign which aims to raise awareness of the work and funds needed to look after Scotland's countryside.
Glencoe Property Manager Scott McCombie said:
"This is a stunning new image and a rare night-view of Glencoe. James's photo shows the main path to Bidean nam Bian. This is really popular with walkers, and so there is a risk of erosion and possible damage to this stunning landscape if we don't take care of the footpaths. The Trust takes care of more than 400 miles of high level footpaths at mountain ranges in Glencoe and across the country and we absolutely rely on the public's support for this vital work."
James recently graduated in photography from Edinburgh College of Art and his landscape-inspired work was spotted by the conservation charity at the annual degree show. He was then commissioned to create this unique image to help spread the word about the Trust's countryside conservation work through the 'One Wee Step' campaign.
James (22) is originally from Uttoxeter in Staffordshire but studied at Edinburgh College of Art and still lives in the city. He began experimenting with photography during his A level art course and went on to study at the ECA.
A keen hillwalker, James was well-qualified for this job. He climbed his first hill at just a few days old, when his dad carried him in a backpack. The bug has stayed with him and he has climbed mountains in the UK and abroad and has recently returned from Nepal. He uses film rather than digital technology to produce his landscape images.
To capture this image, James spent an overnight camping alone in Glencoe – a slightly unsettling experience. He said:
"It was a bit daunting camping alone in this isolated place, especially as the stags could be heard bellowing for hours into the night. After that though, it was wonderfully still before a frost came down."
To learn more about Glencoe and the work the Trust undertakes to care for Scotland's countryside, visit www.oneweestep.org.
The charity nurtures 76,000 ha of some of the wildest and most spectacular countryside in Scotland, encompassing 46 Munro mountains, 424 km of mountain footpaths, seven National Nature Reserves, 45 Sites of Special Scientific Interest, the UK's only natural and cultural World Heritage Site (St Kilda), over 400 islands and islets, Scotland's first voluntary marine reserve and the nest sites of over one million breeding seabirds.
For more information about James Kirk, visit www.jamesckirk.wordpress.com.
The National Trust for Scotland is one of Scotland's leading conservation charities, which relies on the financial support of its members to fund its important work of caring for the natural and cultural heritage of Scotland for everyone to enjoy.
You can join the National Trust for Scotland for as little as £5.50 per month for a family. To become a member, visit http://www.nts.org.uk/Join/Benefits/.
All information contained herein provided by the National Trust for Scotland.
Written by Jessica Voigts