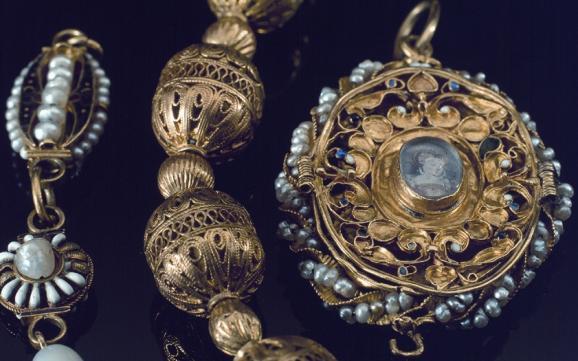 Story Highlights:
A new book written and produced by Historic Scotland coincides with the opening of the major Mary Queen of Scots exhibition at the National Museum of Scotland.
How much do you know about Mary, Queen of Scots? If you're a history buff, like me, you'll be elated at two major avenues in Scotland, right now, to learn more about her. A new book written and produced by Historic Scotland coincides with the opening of the major Mary Queen of Scots exhibition at the National Museum of Scotland.
 
Mary Was Here: Where Mary Queen of Scots went and what she did there, is a fast-paced and very accessible guide to the travels of Scotland's most famous historical figure.
Photo courtesy of Historic Scotland
Extensively illustrated, it charts Mary's life from just before her birth at Linlithgow Palace to the months after her execution at Fotheringhay Castle in Northamptonshire.
 
Andrew Burnet, Publications and Information Manager at Historic Scotland and one of the co-authors, notes, "Mary Queen of Scots is a key figure in our history who continues to fascinate people from around the world. She has connections with more than 20 Historic Scotland properties including Edinburgh Castle, Stirling Castle, Craigmillar Castle, Lochleven Castle, Castle Campbell, Dumbarton Castle, Dundrennan Abbey, and of course, her place of birth, Linlithgow Palace.
 
"The book is based around specific events on specific dates at specific locations. However, its main focus is on Scotland, where Mary travelled widely during her brief reign.  It also features plenty of colourful imagery, including superb photography and more than 120 images from art collections in Scotland, England, France, Spain, and Italy."
 
The book includes sections on Mary's childhood in France and her long imprisonment in England. It also looks at key themes such as food and drink, sickness and health, marriages, costume, and jewellery.
Photo courtesy of Historic Scotland
The book, Mary was here, retails for £7.95. It is for sale at the National Museum throughout the run of the exhibition (until 17th November). It will also be sold at Historic Scotland's shops at selected sites, including Edinburgh Castle, Stirling Castle, Linlithgow Palace, Dumbarton Castle, Lochleven Castle, Craigmillar Castle, Inchmahome Priory, and the Abbey Strand bookshop next to Holyrood Palace in Edinburgh.
A major exhibition on the life of Mary, Queen of Scots is currently running at the National Museum of Scotland. The exhibition, showing only in Edinburgh, explores the myth and reality that surround one of the most enigmatic and romanticised figures in Scottish history through a unique gathering of paintings, jewellery, textiles, furniture, drawings, maps, and documents.
Significant loans from major public collections in Scotland, England, and France and from private collections build on the Scottish history collections of National Museums Scotland to create a rich and detailed picture of Mary, Queen of Scots.
Several important portraits of Mary will be shown, including the Blairs Memorial Portrait and the portrait of Mary in white mourning by Francis Clouet, painted after the death of her first husband. There is a significant gap in the portrait record of Mary for the time she actually ruled in Scotland (1561 to 1567). National Museums Scotland engaged Professor Caroline Wilkinson, a forensic artist from the University of Dundee (who famously did a reconstruction of Richard III last year), to produce a facial reconstruction of what Mary may have looked like by the end of her reign, based upon the existing portraiture and what we know of her life and times.
Mary, Queen of Scots: Blairs Memorial Portrait.
Photo courtesy of Blairs Memorial Trust
By this time, although only 25 years old, Mary was twice widowed, accused of murder, and about to be forced from the Scottish throne into eventual exile and imprisonment in England. The new depiction takes into account these trials and tribulations and is presented in the exhibition as an animation by artist Janice Aitken from Duncan of Jordanstone College of Art and Design.
Visitors will be able to view documentary evidence, from the earliest surviving letter written by Mary to the warrant for her execution signed by Elizabeth I, which is on display in Scotland for the first time since it was acquired by Lambeth Palace in 2007. Other key documents include examples of the "Casket letters", which were used to incriminate her in the Darnley murder, and a letter with secret cipher, which were presented as proof of her association with the Babington plot to assassinate Elizabeth I and thus led eventually to her execution in 1587.
Mary, Queen of Scots: Letter to Mary of Guise.
Photo courtesy of National Records of Scotland
Some of the finest pieces of jewellery associated with Mary will also be on show. She owned a spectacular collection of jewellery and a gold necklace and pendant locket, known collectively as the Penicuik jewels, will be on display. These were said to have been given to one of her supporters during her captivity, jewels being useful gifts to bind supporters to the Crown.
Photo courtesy of National Museums Scotland
Mary, Queen of Scots at the National Museum of Scotland traces Mary's story through the dynastic alliances at the heart of Renaissance Europe, following her life from birth in Scotland, childhood in France, to ruling both France and Scotland as Queen, her imprisonment in England and eventual execution. Mary's legacy is also considered: through her son, King James VI and I, she is the direct ancestor of the present royal family.
George Dalgleish, Keeper of Scottish History & Archaeology at National Museums Scotland, said,
"Following our acclaimed exhibition exploring the life and collections of Catherine the Great, we are proud to present Mary, Queen of Scots, an extraordinary exhibition which investigates a celebrated figure through compelling and remarkable objects. More remarkable still is the fact the Museum sits on the location of one of the most controversial events in Mary's story- the murder of Darnley."
Portraits, sketches, jewels, letters, and personal effects introduce the key characters in Mary's story, her family (the Stewarts of Scotland and the Guise and Valois families of France), her friends, her supporters, and her husbands, as well as her detractors, rivals, and enemies.
The exhibition examines Mary's key position in Renaissance Europe, alongside some of her female contemporaries: Mary of Guise, Mary Tudor, Elizabeth I of England, and Catherine de Medici. Mary was sent to live in France at 5 years old, to join one of Europe's most powerful and flamboyant courts. There she became, briefly, queen of France before her young husband, the Dauphin François, died.
She returned to Scotland a striking young widow in 1561; tall, with auburn hair and a fine pale complexion, illustrated by a fine portrait by Francois Clouet from the Royal Collection Trust. The exhibition explores the character and lifestyle of the young Queen, in a challenging political and religious context. Mary's youth and joie de vivre enriched the existing Renaissance character of the Scottish court of her mother, father and grandfather. Raised in a sophisticated and glittering environment, Mary loved fine clothing and amassed a spectacular wardrobe of elegant and fashionable dresses. While very little original costume survives from the period, there will be sketches from Jasper Conran OBE for the costumes used in the 1998 English National Opera production of Donizetti's Maria Stuarda.
Mary, Queen of Scots miniature, by Clouet.
Photo courtesy Royal Collections Trust
She played the lute, was an exceptional needlewoman, enjoyed card games long into the night, and loved hunting and hawking as well as masques, dancing, and playing music. A range of objects represent these pursuits, including a gaming board with silver tablemen and gold dice said to have been presented by Mary to her friend and confidante, Mary Seton, one of the so-called 'four Maries', her closest female attendants. During this period, the reckless Mary is known to have taken to the streets of Edinburgh disguised as a young man and accompanied by the four Maries.
Renaissance maps and scientific instruments such as a 15th century French astrolabe and 16th century table clock show the context of Europe moving towards an era of rapid scientific advancement, exploration and discovery. And yet, elsewhere, the 1563 Witchcraft Act shows that this was not yet an age of reason. Her allegiance to her Catholic faith and her tolerance of her Protestant subjects drew her into dangerous waters. John Knox, a leading figure in the Protestant Reformation, took every opportunity to verbally denounce her and damn her in print. This is particularly illustrated by Knox's 1558 "First Blast of the Trumpet Against the Monstrous Regiment of Women", in which he attacked the rise of female, Catholic rulers in Europe.  
 
Supported by investment managers Baillie Gifford, the exhibition also explores Mary's complex and controversial later marriages. Under political pressure to produce an heir and advance her claim to the English crown, in 1565 she married Henry, Lord Darnley. The union was a disaster, with Darnley's immature behaviour making him a political liability, and Mary began to exclude him from affairs of state.  
Sarah Whitley, Partner at investment managers Baillie Gifford, said:
'Baillie Gifford is delighted to be supporting the National Museum of Scotland's major summer exhibition for the second year running.  We have a strong track record in helping to promote events that send powerful messages to the people who live, work and visit this much-loved city.  Edinburgh has always been home to some truly remarkable people. Mary's own story is yet more proof of this.'
Contemporary evidence is used to tell the story of Darnley's notorious murder: eye witness accounts, official documents, drawings, biographies of the prime suspects. The National Museum of Scotland sits virtually on the original site of the lodgings at Kirk o' Field where Darnley was killed, and a 1567 bird's eye sketch of the site will be on show, accompanied by an audio-visual display which recounts various versions of the events surrounding the murder and other key objects including the Darnley Memorial painting and the Darnley Jewel.
The Darnley Jewel.
Photo courtesy of Royal Collections Trust
Mary's third marriage, to James Hepburn, Earl of Bothwell, shocked the Scottish nation, and the country spiralled into civil war. Mary was forced to abdicate in favour of her son, James. Pursued, hunted and defeated she sought sanctuary from her cousin Elizabeth I. She fled from Scotland to England, where she would face 19 years of captivity, at the age of only 26. The Marian Hanging from Oxburgh House, is a spectacular tapestry which Mary worked on during her period of imprisonment.
'In my End is my Beginning' is the motto that Mary embroidered on her cloth of estate while imprisoned in England, symbolising eternity after death. The subject and focus of numerous plots, Mary's life ended on the 8 February 1587. Dressed in crimson, the colour of Catholic martyrdom, she was beheaded at Fotheringhay castle on the orders of Elizabeth I. The exhibition includes the Book of Hours which was said to be in Mary's possession at the time of her execution and one of the most iconic images of Mary, the Blairs Memorial Portrait of Mary, Queen of Scots, which represents her in preparation for the executioner's block.
The exhibition (which runs through November 17) will be supported by a series of public events, talks, and lectures. There will also be a book to accompany the exhibition, featuring many of the stunning objects on display. Significant lenders to the exhibition include the V&A, Musée du Louvre, Bibliothèque nationale de France, National Gallery, National Galleries of Scotland, the National Library of Scotland, the National Archives at Kew, the Royal Collections Trust, the National Records of Scotland, and Blairs Museum.
National Museum of Scotland admission: £9 adults, £7.50 concession, children (age 12-15) £6. Entry is free to National Museums Scotland Members and children under 12.
National Museums Scotland is one of the leading museum groups in the UK and Europe and it looks after collections of national and international importance. The organisation provides loans, partnerships, research, and training in Scotland and internationally. The individual museums are the National Museum of Scotland, the National Museum of Flight, the National Museum of Rural Life and the National War Museum. The National Museums Collection Centre in Edinburgh houses conservation and research facilities as well as collections not currently on display.
 Historic Scotland around the web:
      http://www.historic-scotland.gov.uk/
      www.twitter.com/welovehistory
      www.facebook.com/visithistoricscotland
      www.youtube.com/historicscotlandtv
      www.flickr.com/groups/makeyourownhistory
National Museums Scotland around the web:
     http://www.nms.ac.uk/
     https://twitter.com/NtlMuseumsScot
     http://www.flickr.com/photos/nationalmuseumsscotland/
     https://www.facebook.com/NationalMuseumsScotland
     http://feastbowl.wordpress.com/
All information and photos contained herein provided by Historic Scotland and National Museums Scotland - thank you!
It's all about Mary, Queen of Scots
Written by Jessica Voigts