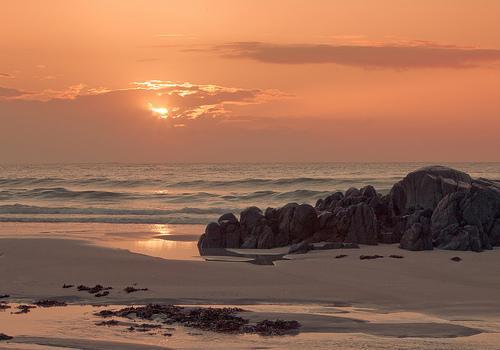 I love this poem, published in Issue 2 of Far Off Places. It calls to me, makes me tear up, expands my heart, lets me wonder and wander, brings me home.
This poem is republished here with permission of the author and the publisher. Thank you!
Viticuso, 1913 and 2005
Annie Pia
In memory of my grandfather - a prisoner of war, who drowned on the Arandora Star, torpedoed in World War 2 and my grandmother who loved Scotland.
At the golden gate of this sparse country
Long emptied of its youth, its finger games and hopscotch,
And where we sat, my daughters and I,
Eating a handspun meal, sipping red wine from lemonade bottles,
Visited family, long ago interred in marble,
Started at a photo of a woman we had once met
Smiling out from her tomb under the weight
Of a mezzogiorno afternoon,
Where we saw an unclothed sun finally give itself up,
Dipping its rim into those sweat sodden fields,
Was it here that my grandfather ate his bread and sweet onions, while resting his back at the angelus tolling?
Or here that he lay to capture the woman who courted with tricks?
Here that she danced her ballarella, hankie in hand for decency's sake?
And in leaving that dry, slow place, and putting it back on the shelf
Like an unfamiliar book we took down, for this one day,
An odyssey to read together, maybe
Like the Katie Morag tales that we once loved,
An accordion took us by surprise, breathing life into that street,
As if replacing sunlight.
And I see
A clog-shod woman, proud duchess that she was, standing at the crossroads,
Child at her skirts, spun cloth across her back and legacy in her pockets,
About to turn the corner of her life,
Bound for a land that would call her Mary, a Leith street,
A new war not yet in the making,
Cots for her children which smelt still of oranges
A hurdy gurdy, the salt and grit of a cream ice,
Italian delights and satin overalls,
White gloved car rides to country hotels, for a two week treat,
She leaves this land to the ghosts yet to come.
And today, in the white sand of an untrafficked Hebridean island,
A lifeboat, lost "Star" of Italy at its journey's end, here and not there;
Its load scattered like roses on the water,
Their shaming call in the seas' tides.
Annie Pia
Annie Pia is an active member of poetry groups in her adored city of
Edinburgh. Her other loved places are Buenos Aires, the elegant île St Louis
in Paris, and the Outer Hebrides, where she loves to hostel and cycle each
spring. Annie struggles to live for the day and avoid too much red wine,
opting for green tea when she can. She plays traditional Scottish music on
her mandolin and Mozart when she can find a piano. She has read at StAnza,
Shore Poets and Edinburgh Fringe events.
Want to know more about Far Off Places? We've got a great interview here.
Photo 'Weak sunset at Balevulin, Hebrides' courtesy and copyright flickr creative commons: http://www.flickr.com/photos/macjewell/
Written by Jessica Voigts