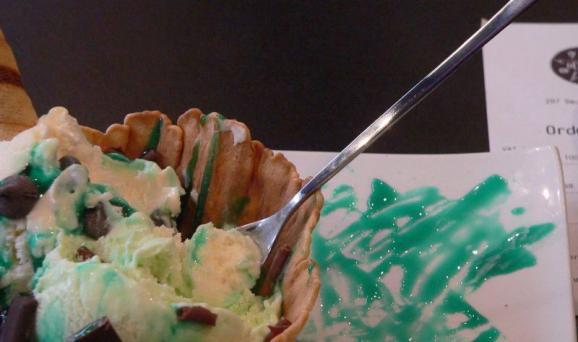 Sauchiehall Street in Glasgow is a major shopping street. A pedestrian area near the city center buzzes with stores, including fashion boutiques and pound stores, as well as eating places from Burger King to Masala Twist. Further west as auto traffic is allowed, that eclectic mix continues. There are music stores, charity shops, clubs and pubs focused on the nearby university student population, coffee shops, and restaurants including Thai, Indian, Vietnamese, pizza, and steak.
What Sauchiehall Street didn't have was a shop focused on serving desserts. The demise of a long time bakery and sandwich shop, which didn't focus only on sweets, but did do a great job with cakes and pies, left the field even more widely open.
The folk of Deesserts took up the challenge. 
In a location across Sauchiehall from the popular O2 nightclub, down the street from the steak house and student focused clubs, they've made a restaurant focused on ice cream.
Not just any ice cream dish, either. The staff there are artists when it comes to creating their specialities. 
On a visit in mid-afternoon one winter day, I chose what's called the minty madness waffle basket. I have to say, it tastes as good as it looks. 
How the place works: you are greeted by a staff member as you enter, and shown to a table. After you've looked over the menu and made your choice, you go up to the till, mention your selection and the number marked on your table, and pay. Then, a short while later, your food arrives at your table. 
In what I thought was an inspired decision, mine came with a long handled spoon which had a rather small bowl -- about a third the size of the bowl of a regular spoon, half the size of what you'd think of for a dessert spoon. This meant that the tastes had to be savored. My minty madness was one of the more simply prepared dishes on the menu, full of flavor though. The intensity of the mint chocolate chip ice cream and mint and dark chocolate chips was well balanced by the refreshing flavor of the scoop of vanilla ice cream, the bits of whipped topping alongside, and the crunchy waffle basket. The mint sauce made just the right flavor bridge between those tastes and drew together the visual aspect of the dish, too.
Most items on the menu are between four and seven pounds in cost, although you are able to customize them with additions for small extra charges. In addition to the waffle basket range, there are many sorts of sundaes, milkshakes, cookie and ice cream preparations, cold and hot drinks, and cakes served with or without ice cream and whole cakes offered as well. The portions for all are generous.
On this mid-winter mid-afternoon visit, Deesserts was about one third full with guests. There were people of college student age, older couples, a gentleman poring over his newspaper and his sundae, and several families with young children. The staff members were welcoming and cheerful. There are tables for one or two diners up front in the shop and an area with larger tables and booths toward the back. The decor, like the menu, is pink and black. While that's not my favorite color combination, it suits the vibe of the location and the style of Deesserts. A good place to come on your own, and a lively spot to enjoy with friends. Deesserts makes a fine addition to its Sauchiehall Street neighborhood in Glasgow.
Learn more: