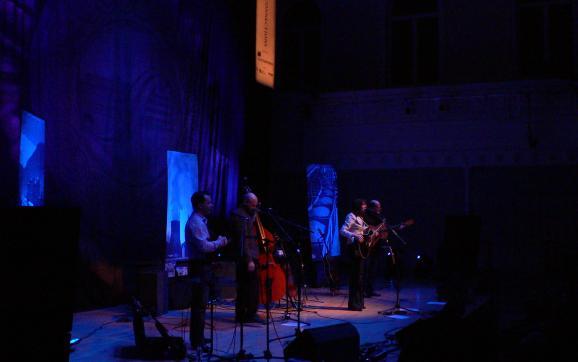 Writer Charles Dickens, statesman Benjamin Disraeli, comedian Billy Connolly, explorer David Livingstone, fiddle player Mairéad Ni Mhaonaigh, singer Julie Fowlis, singer Kathy Mattea, and the BBC Scottish Symphony Orchestra: a varied mix of folk, and what do they have in common? They have all shared their work on the stages of City Halls, Glasgow.
Standing in Candleriggs in the Merchant City, City Halls has been welcoming audiences, artists, and speakers since it was first built in 1841, the first building in Glasgow expressly meant for public gatherings and concerts. Though the hall fell into disrepair over time, a major refurbishment from 2003 to 2006 has made City Halls again a vibrant part of the city's cultural life, housing a main auditorium which manages to be both welcoming and elegant, and which is renowned among musicians worldwide for its acoustics. There are rehearsal spaces -- often also the site of intimate concerts -- as well as recording and broadcasting facilities and spaces for workshops. A vibrant part of the local community as well as a host to world class touring artists, City Halls also offers The City Halls Learning Programme, organised by Glasgow's Concert Halls with support from the BBC Scottish Symphony Orchestra, the Scottish Music Centre, Celtic Connections, the Scottish Chamber Orchestra, and Glasgow City Council. City Halls is home as well to Merchant Voices, a community choir which is open to everyone.
I've attended many events at City Halls through the years, from concerts that filled the thousand plus seats of the main hall to gatherings of just a few friends equally absorbed in the music in the rehearsal rooms. In every case, I found a warm welcome and a space meant for sharing music. Even if music is not your interest, as you walk through Merchant City and down Candleriggs, you'll see a hint of history and a hint of celebration, and just perhaps hear music floating out too, as you pass by City Halls.
http://www.glasgowconcerthalls.com/cityhalls
http://www.glasgowmerchantcity.net
Photo: Kathy Mattea and her band on stage in the main hall of City Halls during Celtic Connections. Courtesy and copyright Kerry Dexter