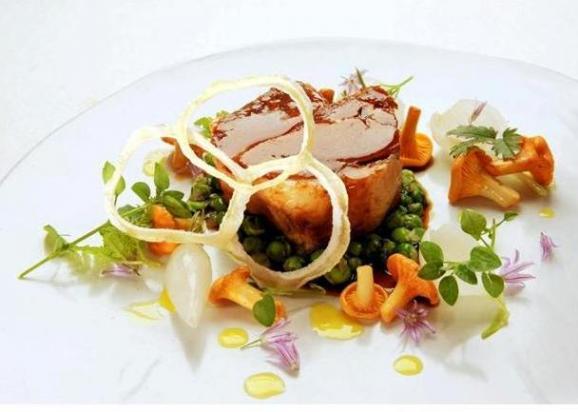 Scotland is a country known for producing quality items, whether it be fine ale or whiskey to hand-made kilts. The salmon is considered by some to be the best in the world. And the shortbread is highly addictive, to put it mildly. And yet when one thinks of fine dining, the mind wanders to France or perhaps Italy.
Now that the country has around 16 Michelin-Starred restaurants, gastronomes are taking notice. Edinburgh alone boasts five, including the famous Castle Terrace Restaurant that serves fresh seafood and free range chicken cooked to perfection by Chef Patron Dominic Jack.  Having begun his career at age 17, Dominic trained at the world renowned Gleneagles Hotel until he moved to the three-star Michelin restaurant l'Arpège in Paris. Castle Terrace won Restaurant of the Year from Scottish Restaurant Awards in February as well as Most Innovative Restaurant.
The Boath House in Nairn has also won the prized Michelin star. Integrating traditionally foraged ingredients into his cuisine, Chef Charles Lockley creates seasonal dishes such as langoustines with truffles and squash. A firm supporter of organic food and the slow food movement, Lockley uses local fish, meat, and cheese to create a stellar dining experience. He was awarded Scottish Chef of the Year in 2010 and continues to win the attention of gastronomes.
 Scotland has also proved beyond a shadow of a doubt to have some of the best Indian restaurants in the world. The Queen's Spice in Edinburgh is called by some travelers 'the best Indian restaurant in Scotland' and offers an array of vegetarian and tandoori dishes, as well as a plethora of curries to satisfy all palates. Other Asian restaurants such as The Manchurian in Aberdeen are delighting gourmands, receiving high reviews on TripAdvisor and proving that Scotland has a myriad of restaurants to fit whatever one is craving, whether high end or low key.
Chef and gonzo journalist Anthony Bourdain enjoyed himself immensely at chip shops, eating everything from fried pizza to the classic fish and chips. Chip shops have become the stereotypical place to go after a night at the local pub ( although I personally have a thing for kebabs..). Junk food is the popular norm in the UK, and once in a while I love to indulge in a good fish and chips. The Anstruther Fish Bar & Restaurant in Fife happens to be not only award winning but supports local fishermen and produce:
'We pay meticulous attention to our supply chain, with a tight ethical purchasing code and actively support small, local suppliers who share our passion for sustainable seafood and are constantly seeking out lower impact methods for sourcing fish, such as farming.'
Any gourmand will be more than happy to dine in Scotland, and I anticipate in the next 5 years that the country will gain the credit it deserves: a first class dining experience for everyone.
Feature photo courtesy and copyright The Boath House.
Written by Elizabeth Kelsey