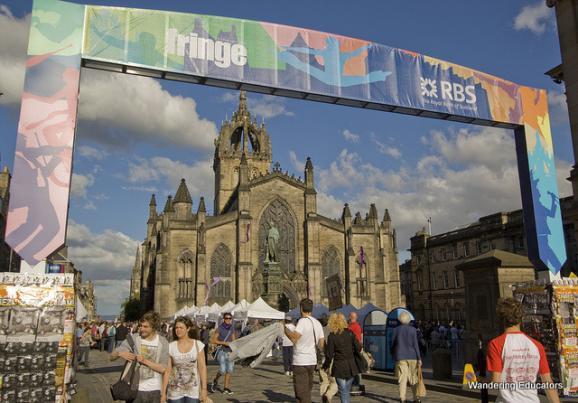 If you're a newbie facing the flood of talent that will engulf Edinburgh during the 2013 Festival Fringe (August 2 – 26), you'll be wanting some serious modern technology at your disposal just to keep your head above water! But you're ready to wade right in when you're armed with downloads of the official Fringe apps, plugged into Twitter feeds, and uploading the interactive on-line festival guides that will help you fish out your favorites from the 2,871 shows to be performed at 273 venues by a whopping 24,107 artists!
The Official App
Undoubtedly, the handiest tool to load up is the 2013 Edinburgh Festival Fringe app for iPhone or Android. Launched during the 2012 festival, this useful app received rave reviews, especially for its "Nearby Now" feature that alerts you to events in your immediate proximity. Search for shows by name, date, time, or general and view the results on maps that give you directions from your current location. If you want to buy tickets on the fly, the app provides directions to the nearest box office location.
Keeping Abreast
Take advantage of the multi-layered database on the Edinburgh Festival Fringe website that gives you in-depth information on the thousands of scheduled performances. As you can imagine, it's not unusual for the festival schedules to get rearranged at the last minute, so it's a good idea to regularly check info sites like WOW24/7 that instantly list changes to any lineups, alert concertgoers when shows are selling out, and provide reviews of previous and upcoming attractions.
Making Connections
If you're hoping to meet up with friends attending the festival, the Fringe Facebook ticketing app provides the perfect platform for buying tickets to the same shows as your pals. You'll also want to "LIKE" the Edinburgh Festival Fringe Society Facebook page where you can track the latest scuttlebutt to help you make wise decisions and avoid any obvious catastrophes-in-the-making. For listings of the best FREE acts during the festival, check the Laughing Horse Comedy page that showcases not only comedians but theatre, cabaret, music, spoken word, and children's shows that charge no entry fee.
The Direct Feed
To keep tuned into events as they happen at the 2013 Edinburgh Fringe Festival, sign on to Twitter feeds like #edfringe, @edinburghfringe, or @freefringefest for the breaking information and gossip. Participants at the festival can tweet each other using at @FringeCentral. On the @Edtwinge review site, you can access crowd-sourced reviews that track the amount of "noise" generated before and after each festival event and generate "karma" ratings for each act.
Getting Around
Luckily, most of the action at the Edinburg Festival Fringe is no more than a brisk walk away, but to get around town it may be useful to have the official My Bus Edinburgh app that points you to the nearest bus stop and displays live bus departures. To plan your trip once inside the "festival zone," use this Venue Map to plot out the quickest route between shows. For sightseeing around the city on foot or bicycle, upload the Edinburgh Map and Walks app that lays out self-guided tours to famous attractions like medieval Old Town.
Establishing Home Base
Finding a cool place to stay in Edinburgh to chill out between shows is challenge best tackled early. Many local homeowners offer accommodations during the Festival Fringe and services like Couchsurfers.com can hook you up with likely candidates. To find the best deals on clean hotel rooms and friendly Scottish hostels, use the reservation system at HostelBookers.com -- the budget travel specialists -- to book and confirm your accommodations in advance.