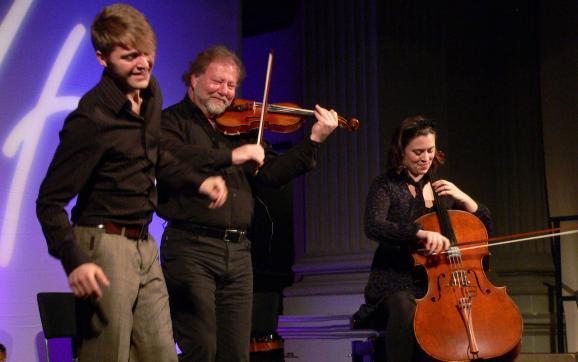 Alasdair Fraser is a master of the many voices of the Scottish fiddle, as adept at drawing listeners in to the lively dance of a reel or a jig, the stately moves of a classically inspired waltz time tune, or the haunting sorrow of a Highland lament. His work has been featured on television, radio, and film, and he has been a guest with the Chieftains and with classical violinist Rachel Barton Pine among others, as well as a soloist at the Kennedy Center Honors tribute to fellow Scot Sean Connery. Fraser's work may also be heard on the soundtracks of the movies Last of the Mohicans, and Titanic.
Fraser is also renown for his musical partnership with cellist Natalie Haas. The two have joined up to recreate and extend the centuries-old Scottish tradition of music shared by the bright sounds of the wee fiddle and the darker tones of the big fiddle. Along the way they've brought back tunes from the literature, created music of their own, and at times added in music from Cape Breton and other parts of the Celtic world to their musical dialogue.
As much as he is respected as a performer, Fraser is also known and loved for his gifts as a teacher, and for making space and time for others to teach and learn. In the early 1980s he founded the still-flourishing Valley of the Moon fiddle camp in California, and has added courses on Skye in Scotland, at a second location in California, and in Spain.
you may want to see these (and other) recordings by Alasdair Fraser
with Natalie Haas
Highlander's Farewell
In the Moment
Fire & Grace
with Tony McManus
Return to Kintail
To learn more:
http://www.alasdairfraser.com
http://www.valleyofthemoon.org
Photograph of Alasdair Fraser Alasdair Fraser with cellist Natlaie Haas and dancer Nic Gareiss at Celtic Connections was made with permission of the festival and the artists. it is by Kerry Dexter, and is copyrighted. Thank you for respecting this.
Legendary Scottish Fiddler Alasdair Fraser
Written by Jessica Voigts