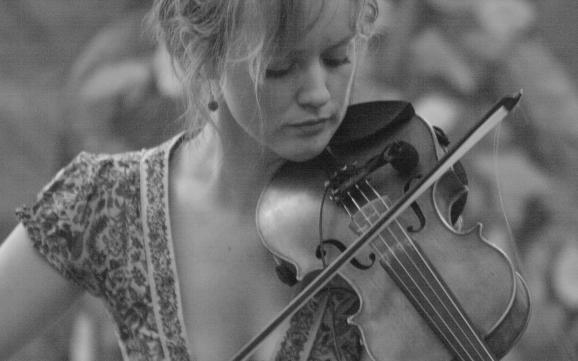 Hanneke Cassel's music holds deep into the heart of Scottish tradition, and yet includes vibrant touches of connections to other parts of the world. She  is a fiddle player and composer, former US Scottish style fiddle champion, and a teacher and performer whose deep knowledge of music and sparkling wit make her as in demand as do her gifts in music.
Cassel grew up in he west coast of the United States, in Port Orford, Oregon. Though always she loved the fiddle, she started out playing western swing. As young teenager she won a scholarship to study with Alasdair Fraser at his fiddle camp one summer. "That was pretty much it," she says. For both her learning traditional tunes and what would evolve as her style of writing music. the sounds of Scotland proved a natural fit.
A scholarship to pursue a degree in music at Berklee led her to Boston, where she is based. Her composing, playing, and teaching have taken her across the world, from Austria to India, from China to Kenya to Cape Breton. Her own compositions are based in the music of Scotland, but they are often inspired by and named after subjects not always so Scottish, from pop culture heroes to a man who talks to goats to a setting for a psalm to the Red Sox baseball team. Her albums include generous helpings of traditional Scottish music as well as her own work, and on occasion music she's learned in her travels to other parts of the world.
Cassel  tours regularly as a solo act and with her own trio, and has appeared with  Ensemble Galilei,  the Cathie Ryan Band, Cherish the Ladies, Alasdair Fraser, Childsplay, and Matt Glaser and the Wayfaring Strangers.  She is a founder, along with Laura Cortese and Lissa Schneckenburger of the band Halali, and she teaches at Alasdair Fraser's Valley of the Moon and Sierra Fiddle Camps, Boston Harbor Fiddle Camp,  Blazin' in Beauly,  and the Club Passim School of Music.  Places she has played include The Boston Hatch Shell, Boston's Symphony Hall (opening for Judy Collins), The Eastman Theater, Mountain Stage,  and  Lincoln Center.
you may want to check out these (and other) recordings
Hanneke Cassel: For Reasons Unseen
Hanneke Cassel: Silver
Hanneke Cassel: Some Melodious Sonnet
and look for Cassel's work on
Notes From Across The Sea by Ensemble Galilei
In the Moment by Alasdair Fraser and Natalie Haas
The Farthest Wave by Cathie Ryan
Fiddler Hanneke Cassel's Music holds Deep in the Scottish Tradition
Written by Jessica Voigts