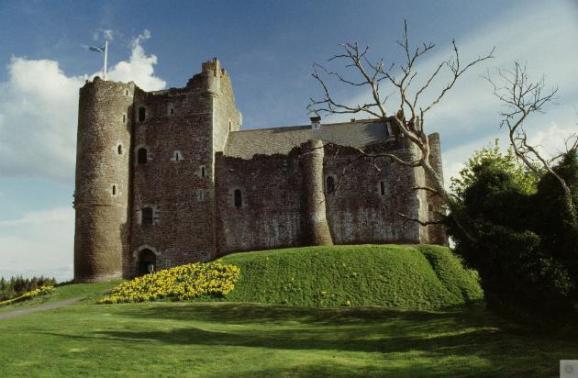 And now for something completely different!  
Come along to the magnificent medieval Doune Castle on Sunday 16th September 2012 for the annual Monty Python-inspired event.
Doune Castle featured in many of the scenes in the 1974 cult film Monty Python and the Holy Grail, a parody of the legend of King Arthur, starring Michael Palin, Eric Idle, John Cleese, Terry Jones, Graham Chapman and Terry Gilliam.
Gillian Urquhart, Historic Scotland's Events Manager said: "This is one of our most entertaining and surreal events. Dress up as your favourite character and take part in our Monty Python Idol competition. See some of the most popular comic sketches being recreated and take part in the silly sing-a-long.
"It is also a good chance to brush up on your knowledge of sparrow to coconut weight ratios and take part in our special quiz. We will be running our Monty Python and the Holy Trail, and there will be a prize for the best costume. "
The event takes place from 4:00 pm to 7:00 pm
Tickets are limited, so book early to avoid disappointment!
Book online in advance at www.historic-scotland.gov.uk/events
Adults £13:00, Concession £10.00, Child £7.20
10% discount for Historic Scotland members
 
Historic Scotland is an executive agency of the Scottish Government charged with ensuring that our historic environment provides a strong foundation for a successful future for Scotland. The agency is fully accountable to Scottish Ministers and through them to the Scottish Parliament. For more information visit historic-scotland.gov.uk
All information and photos contained herein provided by Historic Scotland
Monty Python Quest at Doune Castle
Written by Jessica Voigts