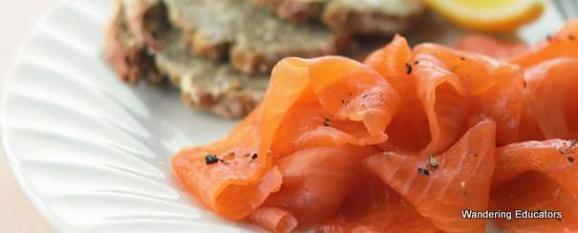 I happen to adore smoked fish...smoked seafood in general! The world loves Scottish seafood, and its' smoked salmon, in particular, is on the tables of families even here in Thailand. Inverawe produces the very best of Scottish smoked salmon, in that it combines the freshest salmon and traditional, age old ways of smoking fish:
 'This time-honoured method allows the fish to gently take up the gorgeous smokey aroma in its own unhurried time, giving the most delicious full-bodied oak-smoked flavour that is so distinctive of Inverawe…'
The business was started in 1974 by Robert and Rosie Campbell-Preston in the Scottish Highlands, around 80 miles north of Glasgow. The company remains dedicated to reducing its environmental impact and places an emphasis on sustainability, 'All our salmon comes from farms who are also committed to sustainable production. The farms are located in areas with strong tidal flows in either the coastal waters off Argyll or the Shetland Isles.'
Inverawe has won numerous awards, including 4 gold in the 2009 Great Taste Awards.  Rosie's two cookbooks are in demand and stand in the forefront as delivering some of the best recipes regarding smoked fish.
The visitor center at Inverawe is open daily from 8.30am to 5pm in the summer. You can visit the tea room or take a walk on their nature trails, followed by a visit to their smokery exhibition. Before leaving, don't forget to buy some of their succulent smoked fish, as well as other fine Scottish produce and kitchen items, available at the gourmet store. If you are unable to visit in person, Inverawe delivers throughout the UK (available for free if you buy 45 pounds worth of items).
For more information on Inverawe Smokehouses, visit their website: www.smokedsalmon.co.uk
Inverawe Smokehouses: Incredible smoked fish
Written by Elizabeth Kelsey