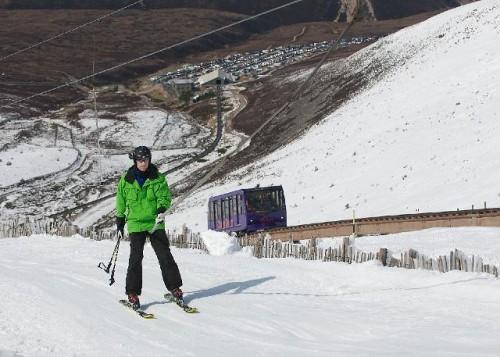 The Highlands of Scotland: they are beautiful indeed when covered with the flowers of summer and autumn's lovely red and gold. What happens to them in winter? Snow! and they become destinations for skiing and other winter sports and landscape explorations.
The height of the ski season in Scotland is December through early March, but snow may begin falling in October, especially in the east, and linger late into April and early into May, especially in the west.
There are five ski areas in Scotland. To get a quick overview of ski conditions at each of them in one place, check out Visit Scotland's ski conditions page.
Glenshee is Scotland's largest area for skiing ranging over four mountains and three valleys. There are trails from very difficult to those well suited to beginners. There are lifts and cafes and places to find find viewpoints of the mountains, too. Glenshee is a particular favorite of telemark skiers. It is between Blairgowrie and Braemar, easily reached from Perth and Edinburgh.
The Lecht, also in the eastern Highlands, is a destination especially friendly to families with young children and to beginning skiers. There are gentle slopes and runs to enjoy, as well as pricing discounts to encourage young skiers. Snow boarders will enjoy The Lecht, and there are areas where you can ride tubes down the slopes, too. A day lodge with a range of activities and eating options will keep non skiers happy as well, as they take in winter mountain landscapes.
In the western Highlands, Glencoe offers Scotland's steepest groomed trail run, the Flypaper. There are other challenging runs too, including Rannoch Glades and the Wall. Boarders will find challenging terrain, with many cornice jumps and steep drop offs. There's plenty of room for those who prefer easier trails as well, and for those who enjoy sledging (known as sledding in North America). Glencoe comes with a name and location which hold a place in the history of Scotland, as well as dramatic mountain vistas. There are on mountain cafes where you may enjoy the vistas as well as the food and drink.
Not far from Glencoe, just a bit north of the town of Fort William, is Nevis Range on Aonach Mor, in the western Highlands north of Glencoe. The skiing ranges from difficult and breathtaking runs in the Back Corries to gentle slopes near the Snowgoose Restaurant. The Snowgoose is reached by mountain gondola, an experience in itself, and the Goose often hosts ceilidhs with music and good fellowship and dancing in the evenings. On Aonach Mor, you'll be face to face with Ben Nevis, the highest mountain in Britain. It is well worth the trip  to see the Ben in winter from the slopes of Aonach Mor even if you don't wish to ski -- and you might find some familiar views, too, as parts of the Harry Potter films and other movies have used Ben Nevis and Aonach Mor to create atmosphere.
CairnGorm Mountain ski area, in the north central part of Scotland, is closest to Inverness and Aberdeen and in the heart of one of Scotland's best loved natural regions. It's also public transportation friendly. Aviemore, the town which is the jumping off point to reach the ski area, is on Scottish City Link's main bus routes, and from Aviemore, you can take a bus up to the ski area, and there is a funicular railway up the mountain which is quite fun to ride as well. Once at the ski area you will find challenging runs and easy ones, sledging areas, and walking trails, including an all abilities trail which welcomes those with mobility or sight restrictions to the mountain. There are places to eat and places to enjoy the views, whether you choose to ski or not.
Each ski area of Scotland has its own strengths and personality. All are located near towns with ranges of lodging, restaurants, pubs, and nightlife. Should you be visiting when it's not ski season, all of the ski areas have year-round activities too, from hill walking to mountain biking to ceilidhs.
Kerry Dexter is an editor with Journey to Scotland. When she's not in Scotland, you can find her at http://musicroad.blogspot.com/
Photographs by Steve McKenna, and are courtesy of CairnGorm Mountain Ski Area
An overview of the five ski areas in Scotland
Posted by: Kerry Dexter