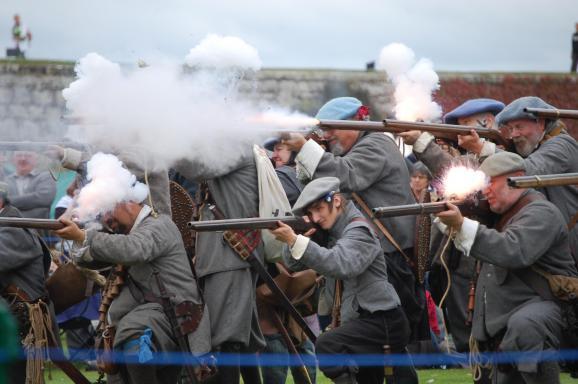 Historic Scotland largest event of the year, 'Celebration of the Centuries', returns to  the magnificent setting of Fort George, one of the finest military fortifications in Europe.The event, to be held on Saturday 11th and Sunday 12th August 2012, from 11:30 to 4.30 pm, will celebrate all of Scotland's fascinating past. This year's highlight will be the exciting new addition of an American Mustang, which will feature in a thrilling aerial display with a Spitfire, the most famous British fighter plane of World War II. The day will commence with a grand parade from Roman times up to the fighting troops of the 20th century, featuring re-enactors from all over Britain taking part. Gillian Urquhart, Events Manager at Historic Scotland said:  "This is a really popular day out for all the family, especially as there is so much to see and do.
"We are thrilled that Event Scotland has assisted with funding to enable us to feature a World War II Mustang along with the Spitfire."EventScotland has also assisted us to provide a free shuttle bus service from Union Street in the centre of Inverness to the Celebration of the Centuries event at Fort George.  The buses will run half hourly starting at 9.30am, with the last collection from the Fort at 5.30pm."  A fantastic aerial display featuring the iconic Spitfire
"With colourful living history camps, combat skills in the main arena, dancing to the Big Band sound of the 1940s, colourful parades with Roman Soldiers right through to soldiers from the second world war, there is something for everyone to enjoy. "
Visitors to Fort George will now also be able to view the newly-unveiled cast bronze model of the fort  in miniature, believed to be the first in existence. Situated at the mouth of the Fort, the model will greet visitors as they arrive at the site.
The fort is run as a visitor attraction by Historic Scotland, yet continues to operate as an active military base, being home to The Black Watch, 3rd Battalion The Royal Regiment of Scotland (3 SCOTS).
For information
Adults  £11:00  Concession £8.80  Child £6.20
Family tickets available
Buy tickets on line in advance and save 10% at :
www.historic-scotland.gov.uk/celebration
Guaranteed free entry to Historic Scotland members – simply show your membership card on the day
All information and photos courtesy and copyright Historic Scotland. Historic Scotland is an executive agency of the Scottish Government charged with ensuring that our historic environment provides a strong foundation for a successful future for Scotland. The agency is fully accountable to Scottish Ministers and through them to the Scottish Parliament. For more information visit historic-scotland.gov.uk