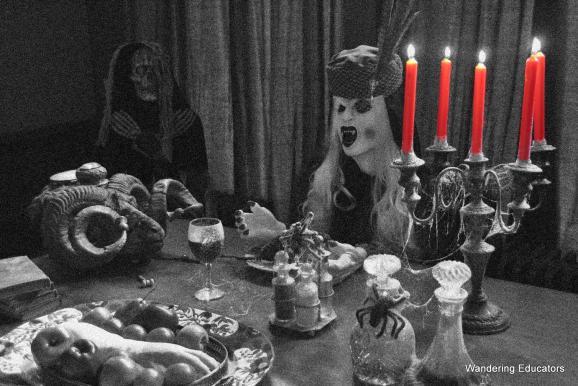 There's nowhere better to spend Hallowe'en than at one of the National Trust for Scotland's historic haunted places. With more events than ever before, and some truly terrifying real-life ghost stories to share, Hallowe'en 2012 is set to be frighteningly fun.
Some of the highlights of this Hallowe'en are:
Holmwood House, Glasgow – Saturday 27 and Sunday 28 October, 12.00 – 16.00
For a terrifying time this Hallowe'en, come along to Holmwood House where it will be transformed into one of Scotland's scariest haunted houses. There will be scary surprises for all the family, indoors and out.
Tickets cost £5 for adults, £3 for children and £12 for a family.
Holmwood House has plenty of ghost stories to share and is regularly visited by ghost hunters trying to learn more about its troubled past.
Drum Castle, Aberdeenshire – Sunday 28 October, 20.00 – 21.45
The ancient tower at Drum Castle will turn cinema screen for a special showing of one of the world's most loved (and feared) horror movies of all time – Hammer House of Horror's Dracula, starring Christopher Lee and Peter Cushing. Audiences members are being encouraged to come along in fancy dress, with prizes awarded for the best Dracula, bride of Dracula, Jonathan Harker and Van Helsing. The event is suitable for adults and children aged 12 and over. Since this is an outdoor performance, wrap up warmly and bring your own seating.
Tickets cost £7 for adults, £5 for children and £20 for a family.
As you'd expect at a property with such a long history as Drum (the tower dates from the 13th century), there are quite a few ghosts to hunt onsite too. Over the years, staff have reported a number of strange goings on, including sightings of a female figure believed to be Anna Forbes, wife of the 20th Laird. Heavy footsteps have also been heard in the stone-floored corridor. And in the Chintz Bedroom, which is reportedly very cold, linen and items in the dresser have been moved when no-one had access to the room.
Culross, Fife - Saturday 27 October, 17.45 – 20.30
Little witches and wizards are invited to a special, spooky night out in the historic burgh of Culross at dusk. This brand new family event will take families on a special ghost tour of the town which has a long and fascinating history and even links to witchcraft.
Who knows, the tour might even be accompanied by the strains of the town's fabled ghostly piper, or accompanied by the man in 16th Century clothing who's been spotted in the palace gardens and then mysteriously vanishes?
Tickets cost £8.50 for adults, £6.50 for children and £25 for a family.
Fyvie Castle, Aberdeenshire – Saturday 27 and Sunday 28 October, 12.30, 14.00 and 15.00
One of Aberdeenshire's most haunted places, Fyvie Castle is preparing for a petrifying Hallowe'en this year, with scary storytelling sessions for all the family. The events take place in the Drummond Room, where Dame Lillias Drummond carved her name in the window sill, centuries ago. She now haunts the castle, as the Green Lady. You'll know she's nearby if you detect the scent of roses. Children are encouraged to come dressed up as ghosts and ghouls to hear more about the castle's horrible history.
The events are free with entry to the castle.
The Green Lady is just one of the supernatural stories at Fyvie Castle. The historic house also reputedly has a cursed room – the old dungeon – it's said that anyone who entered the room died and their wife went blind. Apparently, the curse has come true on two occasions and the room is now kept safely locked up.
Robert Burns Birthplace Museum, Alloway – Friday 26 October, 18.00 – 20.00
Come to the place that provided much of the inspiration for Robert Burns's most ghoulish work, Tam o'Shanter. As well as seeing the original manuscript for the epic poem which describes one Hallowe'en many moons ago, visitors can enjoy more spooky stories of ghosts, witches and fairy folk that frequent the local area. Come along in costume for added atmosphere.
The event costs £3 for children, who must be accompanied by an adult.
The Auld Kirk in Alloway is a very atmospheric place and there have been many spooky sightings. Museum Director Nat Edwards certainly heard someone, or something supernatural there one night – despite his natural scepticism.  He takes up the story:
"One Hallowe'en, before the new museum was built, I had thought that it might be a good idea to invite some ghost-hunters from the Scottish Society for Psychical Research along with a few interested members of the public, to see if modern technology would turn up any evidence of a supernatural presence. Of course, I was convinced that it was all superstitious nonsense – but I thought it might be a bit of fun.
"We set up various machines and monitors and took our stations around Alloway for a ghost watch. I hadn't quite realised that a ghost watch would mean sitting in the pitch dark, in complete silence, in freezing rain for hour after hour. At about four in the morning, the rain stopped and all was still. I found myself alone in Alloway Kirkyard, cold, wet and cramped and more sceptical than ever. Suddenly, there were heavy footsteps beside me and I became conscious of another person's breathing at my shoulder. Assuming it was one of the researchers, I turned to tell him what a waste of time this all was – only to find that there was nobody there.
"Our museum might be new – but it's built on land steeped in ancient tales. I haven't yet heard of anyone meeting a ghost in the museum, but this Hallowe'en: who knows?"
For more ghost stories at National Trust for Scotland places visit www.scotlandsstories.com and for more Hallowe'en events visit http://www.nts.org.uk/Events/Theme/8192/.
The National Trust for Scotland is one of Scotland's leading conservation charities, which relies on the financial support of its members to fund its important work of caring for the natural and cultural heritage of Scotland for everyone to enjoy.