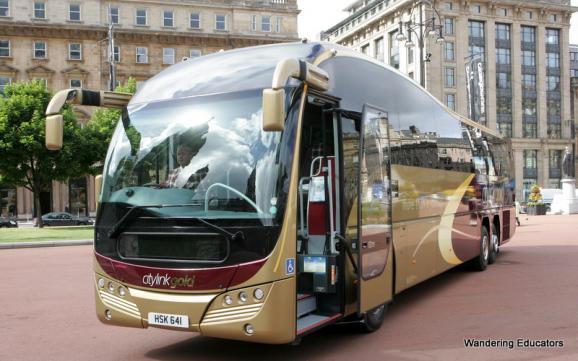 Citylink is Scotland's major cross country bus system. Their coaches -- which is what buses which travel long distance routes are known as in Scotland -- connect more than two hundred towns and cities across the country. We've written about CityLink before - including tips on traveling by bus in Scotland.
Now, a new Citylink Gold service will operate – on state-of-the-art vehicles – between Edinburgh and Aberdeen, with four departures in each direction Monday to Saturday and three services each way on Sundays. Most services will also call at Ferrytoll Park&Ride, Kinross Park&Ride, Perth Broxden, and Dundee.
The new route is being operated through Scottish Citylink, a joint venture between Stagecoach and international transport group ComfortDelGro. The services will operate on state-of-the-art coaches which boast luxury leather seats, power sockets, free Wi-Fi, and a toilet.
Customer service hosts will provide passengers with first-class at-seat rail-style service, with complimentary hot and cold drinks, sandwiches and snacks.
Elizabeth Esnouf, Managing Director of Stagecoach's UK Coach division said: "Our current Citylink Gold services in Scotland have proved extremely popular so we are delighted to be expanding the network. This new link between Edinburgh and Aberdeen will provide customers with a new luxury travel option.
"More and more people are making coach travel their number one transport choice. These new services offer a comfortable and stress-free journey that takes passengers right to the heart of the city and lets them enjoy luxury travel at affordable prices."
Transportation is changing all over the world - people are becoming more eco-conscious and finding alternative means of transportation. Scottish Citylink launched its existing Citylink Gold services in 2010. Research carried out in 2011 showed that, during the first year of operation, 36% of passengers previously travelled by car, with 31% previously taking the train.
For further information about the new services or to book tickets, visit megabus.com or citylink.co.uk
 
All information contained herein provided by Stagecoach.
Travel gets easier in Scotland
Written by Jessica Voigts