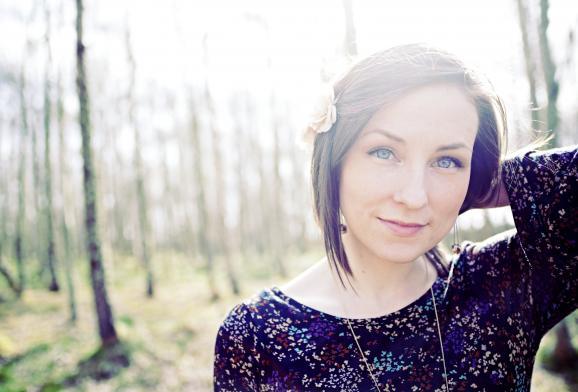 Growing up in North Uist in the Outer Hebrides, about forty miles off the northwest coast of Scotland, Julie Fowlis knew all the top popular chart hits. She also grew up with with the rhythms of Scottish Gaelic speech and song -- songs of history, land and sea, sung by people , in many cases, in the direct line of history carrying on the stories.
She learned how to play whistles and Highland pipes, along with learning classical music on cor anglais and oboe. After university studies in classical music, though, the path of traditional music called, as Fowlis at first worked with the band Dochas, and then set out on a solo career as a singer.
Her thoughtful and lively interpretations of songs in Scottish Gaelic have brought her awards in Scotland and beyond, and accolades from audiences wherever she appears. They have also led her into opportunities presenting programs on radio and television, and  she was the first recipient of the Scottish government's new Gaelic Ambassador of the Year award (Tosgaire Gàidhlig na Bliadhna), given to recognize a person who has done the most to raise the status and profile of Gaelic at home and abroad. "When I asked them what my duties for that would be," she recalls, "they said, 'Just keep doing what you're doing.'"
Though she's honored by the awards and the opportunities they bring, Fowlis points back to the music, and to being part of a tradition where music is handed down and passed on. "I really feel it's very important to stay true to where I'm from and what I represent," Fowlis says.
More recent news: Brave, the film, is set in the Highlands of Scotland in ancient times. It is an animated fantasy which tells the tale of Merida, a feisty high born girl who, when it comes time for her to marry and choose a husband from a select group of suitors, wants to maintain her independence and choose her own fate. Her choices about that unleash, as she says, "a tiny wee curse, or two..." and the action unfolds. There's drama, humor, voice actors with the right sound, visual evocation of the Highlands through image -- and through music.
Though she had not been expecting it, Julie Fowlis found that she would be involved with Brave -- or at least her music would. Fowlis is an internationally touring and award winning Gaelic singer, it's true, but when she answered the telephone at home in Scotland she wasn't thinking the call would be from Disney/Pixar Studios in California. As it happened, each time the production team came to Scotland to do research, they bought loads of music recordings and took them back to California to listen. Fowlis' music, they told her, just kept coming to the top of the stack.
 
You may want to check out these recordings ( and others) by Julie Fowlis
Julie Fowlis: Live At Perthshire Amber
Julie Fowlis: Uam
Julie Fowlis and Muireann Nic Amhlaoibh:  Dual
in which Fowlis collaborates with Muireann Nic Amhlaoibh, singer from West Kerry in Ireland, on a project which traces connections among songs sung in Scottish Gaelic and Irish
Heisgeir, a project in which Fowlis combines live music with images and stories from Heisgeir in the Hebrides:  Heisgeir
For more information: http://www.juliefowlis.com
Photo courtesy and copyright Michelle Fowlis
Scottish Musician Julie Fowlis
Written by Jessica Voigts