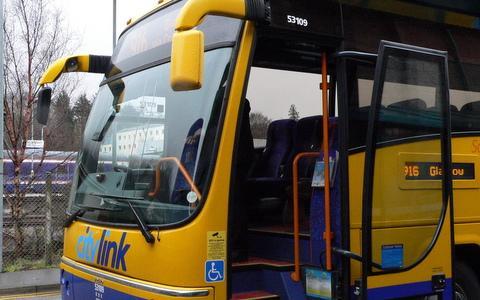 There are a number of companies which offer tours of Scotland, focusing on history, whisky,  golf, Scotland in a day, and all manner of other things. All good and well, and worth looking into, especially of you're new to traveling in Scotland or are visiting an unfamiliar part of the country. But what if these tours don't visit places you'd like to see? What if you'd like to return to a spot you've visited briefly on a tour? What if you'd just prefer to design your own trip? Scottish Citylink, and particularly Scottish Citylink Explorer pass, is your solution.
Citylink is Scotland's major cross country bus system. Their coaches -- which is what buses which travel long distance routes are known as in Scotland -- connect more than two hundred towns and cities across the country. The Explorer Pass allows you unlimited travel within a range of days --three days travel out of five, for example, or five days of your choice out of eight -- for a flat fee.
I've found the Explorer pass to be a great bargain whether traveling point to point or -- this is something many traveler do not think of -- using one for day trips. Not long ago, I was in Glasgow, with commitments which required my presence in the city  the evening. With a three day Explorer Pass, though, I was able to enjoy days out to Fort William (with a route which traveled by Loch Lomond and Glencoe), to Inverness, and to Edinburgh. If you study timetables, and ask the advice of the booking agents, there are many such connections you will be able make, wherever you might be based. The Explorer Pass also  comes with the possibly of discounts on ferry travel to many of the isles and discounts on fares of bus lines which reach places not served by Citylink. I was able o avail of a year's free membership in the Scottish Youth Hostel Association with my pass, too, and there are usually other discounts on offer.
Several things to know about traveling by bus in Scotland:
*Especially in the cities, it's a good idea to book your journey ahead of time. Cities such as Edinburgh, Glasgow, Perth, and Inverness are transportation hubs, so many people board coaches at those stations.
*Especially in summer and at school holiday times, it's a good idea to book ahead as well. You can usually book by phone to a main number, as well as in person at a bus station if there is one near where you are staying.
*Not every stop is at a bus station -- it might be at a shop or other landmark. Ask your driver -- and your fellow passengers -- for advice.
*You'll need to shift your own luggage, except on Gold Service coaches. Gold Services are limited stop routes between Glasgow and Edinburgh and Inverness or Aberdeen. These services have an attendant who will offer help with your luggage -- and offer free snacks en route, too (The drivers will assist passengers with disabilities on all routes, though).
*When schedules get missed or things go wrong otherwise -- in my experience this is quite rare, but I have had the chance to see Citylink in action when it does -- expect Citylink personnel to treat you with courtesy and respect, and do all they can to address the issue clearly.
To find out more about the CityLInk Explorer Pass
http://www.citylink.co.uk/savings.php