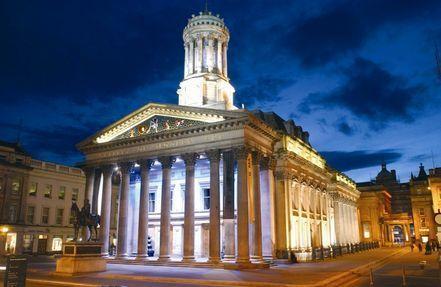 Gallery of Modern Art (GoMA)
Royal Exchange Square
Glasgow
The building is centuries old, dating back to the eighteenth century when it was an elegant home for a Glasgow merchant who made his fortune in tobacco trade and made a home for his family in neo-classical style. Inside this imposing structure in the heart of Glasgow in Royal Exchange Square, though, things are a bit different: this is the Gallery of Modern Art - GoMa for short, where Glaswegians and visitors experience the most cutting edges of the city's collections of contemporary art objects as well as explore visiting shows and collections...and make art themselves, too.
Glasgow is known as the home of a vibrant and flourishing visual arts community, and the city itself holds a well regarded collection on contemporary art ranging across painting, sculpture, photography, and mixed media. Items from this collection are often displayed at GoMA, as are traveling exhibitions and new works which arise from collaborations between the museum and the city's communities. Generally, curators schedule exhibits -- the galleries often house two or more simultaneously -- to be on display for around six months at at time. This allows people time to visit and revisit the sometimes challenging works and to bring friends to share their discoveries. At the time of this writing, one of the main shows comprised work of six Glasgow sculptors who use everyday objects to create their works, and a schedule of dance performances inspired by this exhibit was on offer as well.
That sort of collaboration is common at GoMa, and is encouraged in the workshops and talks presented at the gallery as well. The top floor of the building houses art making spaces where classes for teens, adults, and children are offered, and on most Saturdays family day activities are going on as well, which usually become lively sessions with kids and adults alike immersed in the fun of exploring their own creativity.
The gallery also is home to a small shop, and in its basement, a cafe with a range of sandwiches and baked goods available. Next to the cafe is a branch of the Glasgow public library system, the Library at GoMA, which among other things has a number of books on contemporary art.
Learn more:
http://galleryofmodernart.wordpress.com/
http://www.glasgowlife.org.uk/museums/GoMA/Pages/default.aspx
Gary Barber [CC-BY-SA-2.0 (http://creativecommons.org/licenses/by-sa/2.0)], via Wikimedia Commons
Exploring the Gallery of Modern Art, Glasgow
Posted by: Kerry Dexter
Feature photo by yellerzine