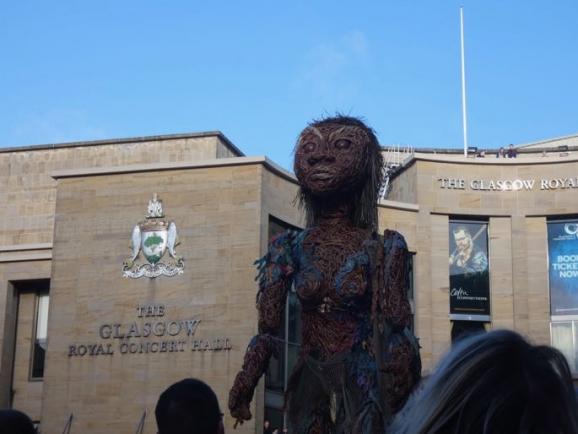 A 33 foot-tall puppet made her way through the streets of Glasgow during 2020's Celtic Connections, in a kickoff of a year long celebration of coasts and waters. 

Her purpose? 
"Storm lives in the waters around Scotland, and in 2020 she will walk on land to share maritime stories of the sea.
At ten metres tall, her eyes are the colour of oyster shells, her hair thick strands of kelp, her voice the chorus of the waves. Aided by eight puppeteers, Storm will visit the heart of towns and villages across the country, gazing down at the beauty of our coastlines, urging care for the environment every step of the way.
Invited to appear at Celtic Connections 'Coastal Connections Day' in Glasgow on 18 January 2020, Storm will rise from The Clyde and bring together a tide of people for a carnival of colour and community spirit. Where will you be when she passes? 
A new feat of mechanical mastery from Edinburgh's Vision Mechanics, Storm is an outdoor theatrical event to mark Scotland's Year of Coasts and Water 2020." ~https://www.visitscotland.com/info/events/storm-p2358561
Here are 6 things YOU can do to help climate change and travel:
https://perceptivetravel.com/blog/2020/01/27/climate-change-travel-6-ideas/
Editor/Co-Founder Kerry Dexter watched Storm make her way through Glasgow this January, and sent these photos. Photos courtesy and copyright Kerry Dexter.