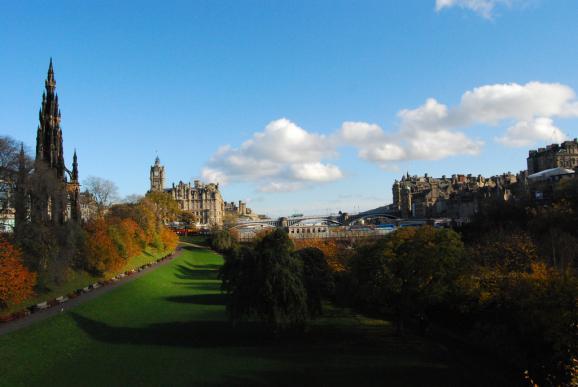 Context, the critically acclaimed walking tour company whose small-group, scholar-led "walking seminars" have revolutionized day tours in cities like Rome, Paris, and New York, announces its expansion to Edinburgh. Working with local historians, Context opens with 6 innovative tours to help visitors understand and appreciate Edinburgh's history and heritage.
"Edinburgh is a big archaeological site," says Coinneach Maclean, one of Context Edinburgh docents. "We have Celtic, Roman and medieval structures overlapping in the city, making it a great place to weave an extraordinarily rich and entertaining narrative of the past lives of Edinburgh's residents."
As with its tours elsewhere, Context will cap its group walks in Edinburgh at six participants, the lowest group size in the walking tour industry. Most walks will last three hours and be led by local Ph.D.-level scholars and other experts—Context's signature. Known as "walking seminars," each activity is aimed at independent travelers who want to acquire a deeper understanding and appreciation for Edinburgh and its history.
"We assembled a great group of scholars whose love and knowledge for the Scottish capital will truly bring our clients the Context experience," says Petulia Melideo, UK manager for Context Travel. " There are so many layers to this city, and our walks help visitors understand how these relate to each other."
Initial offerings include tours such as: Worship and Religion, History of Medicine, and the Miracle of Glasgow. The latter is a day trip to Glasgow, exploring its contemporary art scene. The History of Medicine walk focuses on the period between 1751 and 1800, when Edinburgh was a major center of medical science, home to discoveries in anesthesia and antisepsis, and to such famous practitioners as Alexander Fleming, Elsie Inglis (pioneer in women's medicine), and Conan Doyle, who evolved his method of detecting criminals from his Scottish medical tutor.
Walks will be offered both privately on request and as regularly scheduled group walks. Private walks will cost between £230 and £250 for the group, while group walks will cost £65 per person.
More information can be found on the company's website, at: www.contexttravel.com/city/Edinburgh
Founded by National Geographic writer Paul Bennett and designer Lani Bevacqua, Context Travel is a network of English-speaking scholars and professionals, including art historians, writers, architects and gastronomes, who organize and lead walking seminars in twenty (20) world cities, including: Florence, Rome, Venice, Naples, Paris, London, Edinburgh, Madrid, Barcelona, Berlin, New York, Philadelphia, Boston, Washington, D.C., Istanbul, Athens, Beijing, Shanghai, Vienna, and Prague. A certified B Corporation, Context Travel was named one of the fastest growing American companies in 2011 by Inc Magazine. Travel + Leisure has called Context one of the top European tour companies for its innovative approach to travel and the depth of its programs. To learn more about Context, visit its website at: www.contexttravel.com
All information and photos contained herein courtesy and copyright Context Tours
Scholar-led "walking seminars" offer a new way to explore Scotland
Written by Jessica Voigts