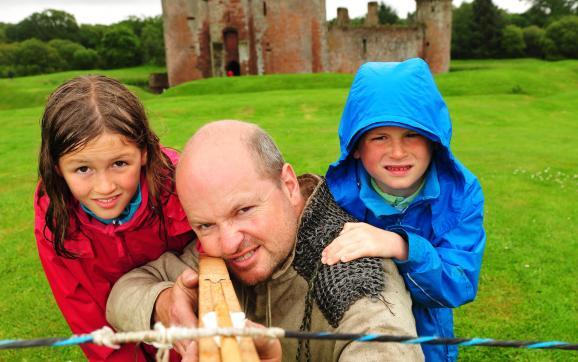 A glimpse of medieval life at Caerlaverock Castle over four days next week promises visitors a thrilling insight into sword fighting, archery and crossbow skills.
"Medieval Mayhem" is the perfect entertainment for Caerlaverock, an imposing stronghold near Dumfries with a turbulent history. Presented annually by Historic Scotland, the event offers attractions for all the family, young and old.
With its moat, twin-towered gatehouse and battlements, Caerlaverock will set the scene for costumed performers regaling visitors with tales of legendary outlaws, thrilling battles and heroic quests.
Events Manager at Historic Scotland, Gillian Urquhart said: "Medieval Mayhem is the ideal event to help keep the children entertained during the summer holidays. Why not come along to Caerlaverock, and enjoy junior jousting, archery, sword play and crossbow shooting."
The Castle also offers a siege warfare exhibition, children's adventure park and trail, plus a nature walk leading to an earlier castle in the woods.
"Medieval Mayhem" runs from Thursday, July 26th to Sunday, July 29th, between noon and 4pm each day.
The cost of the event is £7 for adults, £6 for concessions and £4.50 for children. Admission is free for Historic Scotland members. Family tickets are available at £20 for two adults and two children.
Photo caption
Imposing Caerlaverock Castle is the ideal setting for "Medieval Mayhem", which offers sword play, crossbow shooting (above) and other glimpses of mediaeval life.
All information courtesy and copyright Historic Scotland
Historic Scotland is an executive agency of the Scottish Government charged with ensuring that our historic environment provides a strong foundation for a successful future for Scotland. The agency is fully accountable to Scottish Ministers and through them to the Scottish Parliament. For more information visit www.historic-scotland.gov.uk 
Medieval Mayhem at Caerlaverock Castle
Written by Jessica Voigts