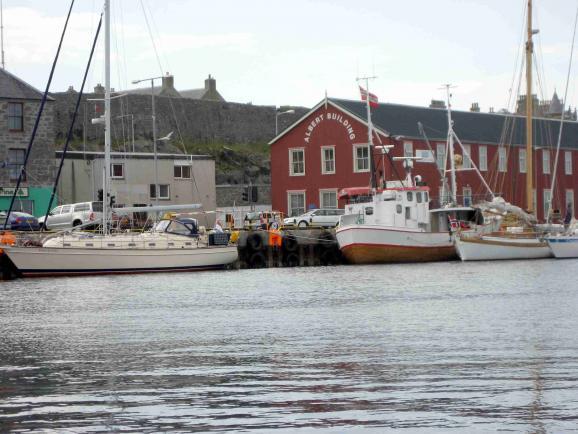 One of the top places on my 'must see' list is Lerwick, capital of the Shetland Islands. The most northerly and easterly town in Scotland is only 230 miles West of Bergen, Norway and 210 miles north of Aberdeen. Its location and history give it a distinct feeling - a mix of Scotland with a dash of Nordic influences - and make it one of the world's most fascinating places.
According to Visit Shetland, Lerwick is '… a bustling, cosmopolitan seaport with services and amenities only usually found in much larger places on the British mainland.' Restaurants such as Hay's Dock Café, located in the Shetland Museum and Archives, offer a unique fine dining experience that one would expect to find in Edinburgh. The finest produce from Shetland is beautifully exhibited in the dishes that vary from curried smoked haddock risotto to mussel and tomato soup.
Apart from its fascinating cultural heritage, Lerwick has proven to be a popular vacation destination, offering families and singles plenty of activities. Up Helly Aa, Europe's largest fire festival, takes place every January and involves a series of marches followed by a torch-lit procession and the burning of a galley. Up Helly Aa is the type of event that draws visitors from around the world, many who return to Lerwick after the experience.
What Shetland is most known for is of course its natural beauty. Wild seascapes, cliffs and beaches, archaeological sites and wildlife encounters leave impressions on visitors that last a lifetime. Rosa Steppanova came to Lerwick on holiday in 1976 and never left. To mimic her mother's Bavarian garden, she began creating a small one outside her small cottage and wrote a book The Impossible Garden, chronicling her journey. The garden and nursery are open daily from 2 – 5pm or by appointment for visitors interested in seeing how her hard work has paid off.
The Lerwick Hotel offers guests rooms that have beautiful views of Berwick Bay, as well as amenities such as wifi. The Brasserie restaurant within the hotel is a hot spot for locals and is very family friendly. The bar offers Shetland beers, an extensive wine list, single malts, gins, and brandies.