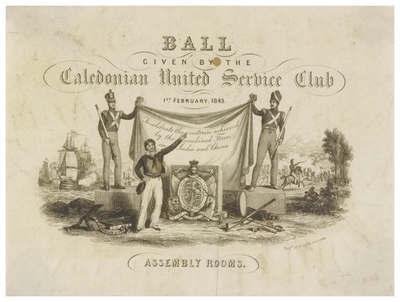 The Assembly rooms, first opened in 1787 to provide a space for cultural and entertainment purposes, has had a long and storied history. They reopened on July 21, 2012 after closing for 18 months for refurbishment. The Assembly Rooms is a Category A listed building located in Edinburgh's New Town, a UNESCO designated World Heritage Site. The Assembly Rooms are located at 54 George Street.
The Edinburgh Libraries has a very special collection of historical Assembly Room artifacts, such as:
programs for music recitals
illustrated dance tickets (from the 1830s!)
historic photos
The Edinburgh Libraries on the History of the Assembly Rooms and their special exhibit:
"Edinburgh's first Assembly Rooms for public dancing opened in a house in the West Bow in the Old Town in 1710. The old Assembly Rooms moved on a number of occasions to various different leased buildings, until a prime location and funding was found for a purpose-built venue in the New Town.
The Assembly Rooms we know today opened on George Street with the Caledonian Hunt Ball in January 1787 before the building was completely finished. A Master of Ceremonies was appointed to make sure Edinburgh's socialites adhered to the regulations. Dress code was strict too, with young gentlemen refused entry if their hair was unpowdered or untied, or if they were wearing boots.
Edinburgh could now boast one of the most elegant Assembly Rooms in Britain. It comprised a magnificent ballroom, a tea-room, a grand saloon and several smaller rooms. The money for its construction was raised by public subscription and the Town Council had granted permission for the project on the condition that two charitable balls would be held each year for the Royal Infirmary and the Charity Workhouse.
The Assembly Rooms has entertained many prestigious guests over the years, including Sir Walter Scott. It is reported that he was attending a dinner in the banqueting hall in 1827 when he first acknowledged that he was the mysterious author of the Waverley novels.
Once a glamorous destination, the Assembly Rooms fell from favour at the beginning of the 20th century. It even served as a recruitment centre for the army during the First World War. In 1945, recognising the need for public entertainment space, the Corporation of the City of Edinburgh bought the venue. The Assembly Rooms was returned to a place at the heart of the city's social life. As an established festival venue, the Assembly Rooms is now known not only to locals, but to tourists and entertainers from all over the world.
Our exhibition includes wonderfully evocative programmes for concerts and music recitals and tickets to grand balls from its golden age in the 19th century, as well as more recent images of a tea dance taking place and views looking along George Street.
Take a look at our George Street exhibition to see more of Edinburgh's most reputable New Town street."
For more information, please see:
http://www.capitalcollections.org.uk/index.php?a=ViewItem&i=26255
Edinburgh Musical Festival Ball ticket, 1843
Assembly Rooms (George Street)
A view of the columnated portico and arched porch entrance of the Assembly Rooms on George Street. Two men are standing with a horse in the road in front of the Georgian building. There are women in long dresses standing beneath the arcaded entrance and a Newhaven fisherwoman carrying a large basket on her back walks in front of the entrance.
Artist/Maker: Storer, H. S.
Date: 1820
All photos courtesy and copyright Edinburgh Libraries
Edinburgh Assembly Rooms Reopen
Written by Jessica Voigts