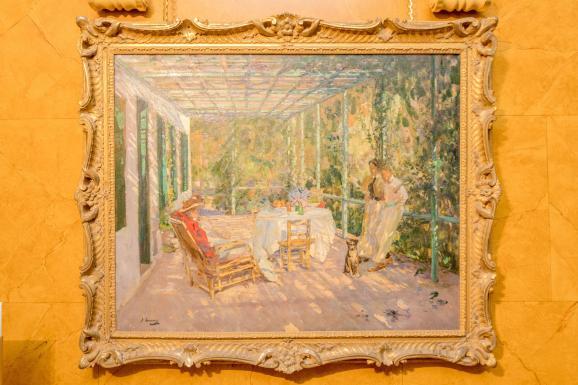 A painting by highly acclaimed post-impressionist and 'Glasgow Boy' Sir John Lavery has gone on public display in the UK for the first time since the 1940s. The Pergola is now being exhibited at the A-listed Georgian mansion of Duff House, near Banff.
The painting was completed in 1906, the same year that the Fife family gave up Duff House and gifted it to the nearby towns of Banff and Macduff. The house is now in the care of heritage body Historic Environment Scotland and open to the public, and The Pergola is housed alongside several collections of art treasures and superbly furnished rooms.
Hugh Morrison, Collections Registrar at Historic Environment Scotland, said:
"We are thrilled to receive this important masterpiece on loan at Duff House and very grateful to the private lender for the opportunity of putting it on public display for the first time since the 1940s. The quality of this painting is sure to attract many fans of The Glasgow School to see it in its new setting.
"The Pergola by Sir John Lavery is a welcome addition to the wealth of artworks on loan from the National Galleries of Scotland and other lenders. The painting will join works by El Greco, Gainsborough and Raeburn and the collection of paintings belonging to the Erskines of Torrie, a wealthy 18th century Scottish family from Fife."
Belfast-born painter Sir John Lavery, who passed away in 1941, spent some time in Glasgow and was associated with The Glasgow School, a circle of influential artists and designers that flourished from the 1890s to around 1910.
Painted in 1906 and first exhibited in 1908 at the Paris Salonne d'Automne, The Pergola depicts Lavery's favourite German muse, Mary Auras, and his teenage daughter Eileen enjoying a leisurely breakfast in the dappled sunlight terrace of the artist's residence in Tangier. Sir John began a fascination with the Moroccan port in 1891 - later purchasing the small villa in the painting known as Dar-el-Midfah or the House of the Cannon in 1903. The identity of the young man in the painting is unknown, however it is said that the man could be one of Mary's many suitors.
Regarded by his biographer Walter Shaw Sparrow as an 'original contribution to the latter day art dubbed Post-Impressionism', Sir John Lavery's post-impressionist artistic style is part of a movement including artists like Van Gogh, Cézanne, and Gaugin. He exhibited across Europe in the major salons and successions and was favoured in Paris, Rome, and Berlin.
The Pergola can be viewed as part of general admission to Duff House. Tickets are available online from www.historicenvironment.scot
Historic Scotland is a sub brand of Scotland's new public heritage body, Historic Environment Scotland.
All information contained herein provided by HES. Photos: The HES event, Study Day, took place at Duff House, Banff on 12 October 2016. Pictured: Image by: Malcolm McCurrachWed, 12, October, 2016. Used with permission.