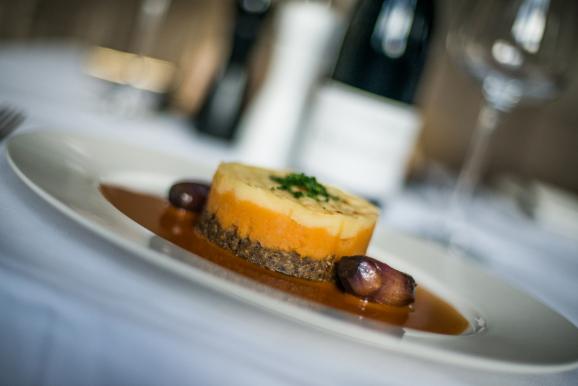 Sunday, January 25 is Burns Night, which celebrates the life and works of the legendary Scottish poet, Robert Burns.  Yes, the National Poet of Scotland has his own holiday. Burns Night is much more than the same old stanzas and rhymes. Kilt-clad Scots and Scottish-Americans celebrate the holiday with a traditional table-side bagpiping, the Ode to Haggis (which opens the meal), tasty haggis & whiskey, and much more to pay tribute to the legendary bard. Haggis is a pudding that traditionally contains sheep's pluck (heart, liver and lungs) mixed with spices and marinated in an animal's stomach casing. The beloved Scottish poet felt that the haggis dish represented his countrymen's ability to overcome adversity.
Vegetarian haggis, if you can't stomach the regular version
Robert Burns - Fun Facts:
·         J.D. Salinger's famous 1951 novel 'Catcher in the Rye' based its title from a poem by Robert Burns 'Comin' Thro' the Rye.'
·         Bob Dylan selected Burns' 1794 song 'A Red, Red Rose' when asked for the source of his greatest creative inspiration.
·         John Steinbeck took the title of his 1937 novel 'Of Mice and Men' from a line contained in Burns' poem 'To a Mouse': 'The best laid schemes o' mice an' men / Gang aft agley'.
·          Auld Lang Syne is recognized by the Guinness Book of World Records as being one of the top three most popular songs in the English language.
·         A miniature book of Robert Burns poetry was carried into orbit by astronaut Nick Patrick on a two week space mission in 2010.
·         Robert Burns produced over 550 songs and poems. That averages at around 25 works for each year of his adult life (Burns passed away at 37).
 
Want to learn more about Robert Burns?
The Scotland Government has created a fantastic website and app with fun games and tools to learn more about Burns both in the classroom and at home! It is a great educational resource with which to engage kids and interest them in both poetry and a new culture (or learn more yourself!)
·  The Poetry of Robert Burns https://www.scotland.org/events/burns-night/the-poetry-of-robert-burns
·  Burns, Scotland's Bard https://www.scotland.org/features/scotlands-bard
We have many articles about Robert Burns here on the site...
and a recipe for vegetarian haggis!
haggis bon bons
All photos courtesy and copyright the Government of Scotland