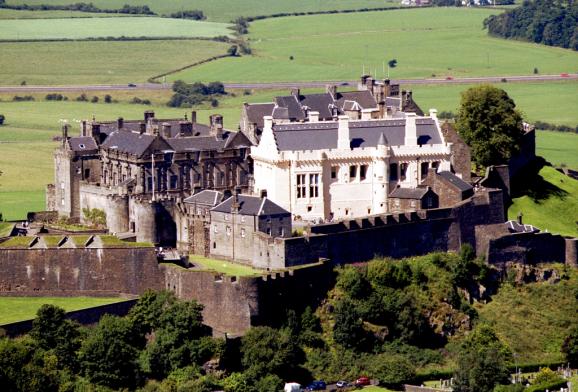 Young visitors to Stirling Castle will be able to find out more about one of Scotland's most famous poets later this month.
The castle is holding its inaugural 'Burns for Bairns' tours which will provide young visitors with the opportunity to learn more about the famous bard, his poems and Scotland during that time, as part of its Burns celebrations at the castle.
The special tours are a spin off from the hugely successful adult Burns tours which have taken place at the castle over the past few years, and will once again be running this year.
Guides will regale visitors of all ages with tales of Burns, who himself visited the castle in 1787, as well as conducting some of the tour in Scots – the language of Burns' verse. Visitors will also be able to show off their own poetry prowess at the castle's poetry corner which will challenge them to create a masterpiece of their own.
This year, there will also be the opportunity to find out about the origins of the Burns Supper when the castle's Great Hall hosts a special 'Whisky and the Haggis' event complete with the dressing of the haggis. And for adult visitors, experts from local distillery Deaston will also be on hand to explain the whisky making process in fine detail.
The Regimental Museum of the Argyll & Sutherland Highlanders at the castle will also be getting into the Burns spirit with Burns themed events running over the weekend including an art exhibition and children's activities.
Gillian MacDonald, Executive Manager at Stirling Castle, said, "We've held a Burns event the past few years at the castle, which always goes down really well with visitors. As we'd recently launched children's tours at the castle, it seemed the natural next step to look at doing a special themed event for our young visitors and who better than Burns? We hope that they provide a great addition to the castle's Burns experience alongside our existing adult tours and with the Great Hall hosting a special event looking at the origins of the Burns Supper, it's a great place to celebrate the bard's birthday!"
'Burns for Bairns' will run at the castle at 11.15am and 2.15pm on the 26thand 27th January. Adult Burns tours will take place at 12 noon and 2pm on the 26th and 27th January. The 'Whisky and the Haggis' event will run from 11-4pm on both days.
For all the latest on what is happening at Stirling Castle, visit  www.stirlingcastle.gov.uk
Historic Scotland has 345 historic properties and sites in its care. These include some of the leading tourism attractions in the country, including Edinburgh, Stirling, and Urquhart Castles, Fort George, Linlithgow Palace, the Border Abbeys, and Skara Brae. For further details visit: www.historic-scotland.gov.uk/places.
Photo courtesy of flickr creative commons: http://www.flickr.com/photos/stirlingcouncil/5456318768/