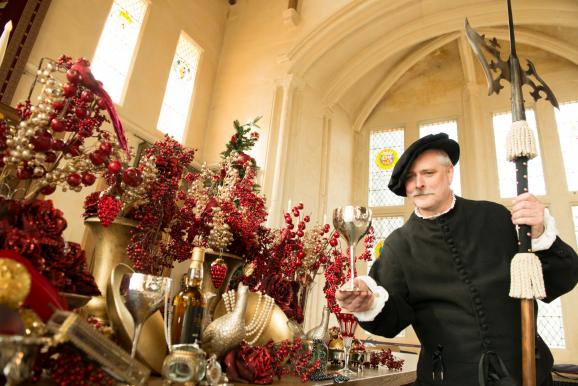 The pre-advent countdown is on at Stirling Castle, as with just two months left until the big day, the iconic attraction has opened the doors to its first ever Christmas shop.
The Clan and Christmas shop at Stirling Castle
One of the castle's three gift shops – The Clan and Craft – has been transformed into a winter wonderland, just in time for Stirling residents to begin the seasonal shopping spree in the lead up to the big day. The newly named Clan and Christmas, located on the castle's esplanade, is stocked with a range of decorations for the home and festive gifts for all the family this winter.
Kari Coghill, Head of Business Development at Historic Scotland, officially opens Stirling Castle's Christmas shop
With a collection offering unique gift ideas, stocking fillers for loved ones and decorations to adorn both the tree and home, the castle has Christmas covered for locals looking for festive inspiration. And with many items sourced from independent suppliers and producers, there's lots of unique gift ideas to help create the perfect Christmas with your Clan.
Commenting on the launch of the Clan and Christmas shop at Stirling Castle, Natasha Troitino, Head of Merchandise and Product Development at Historic Scotland, said: "With just two months to go and the festive season soon to be upon us, The Clan and Christmas shop at Stirling Castle has all the makings for a truly merry Christmas.
"We have transformed the Clan and Craft into a winter wonderland– with an emphasis on beautifully chosen items – many from independent suppliers – that will make any Christmas  complete.
"Perfect for people  looking for a distinctly different Christmas shopping experience, the shop is filled with seasonal inspiration from great gift ideas for all the family, to those all-important finishing touches for both the tree and home."
Renaissance costumed character at Stirling Castle toasts the opening of the Clan and Christmas shop
With everything from stockings to hang above the fireplace to tree-topping angels, cashmere scarves and warm winter hats, Christmas inspiration is sure to be had at the new Christmas shop  which features a number of themed ranges.
'Christmas Fun' packages up presents for little ones, whilst  'Shades of red'  provides a contemporary twist on festive classics. 'Snowy Winter' will help create a real winter feel, complete with wooden crafted tree ornaments and cosy cushions and throws, whilst 'Traditional Scotland' with woollen textiles and classic Christmas gifts and decorations, including the iconic Harris Tweed cushions, offer a traditional festive feeling.
Costumed performer portraying Mairi de Guise adds the final flourishes to the Christmas tree
Natasha added: "Situated just off the castle's main thoroughfare on the esplanade, the shop – which is free to access – is filled with seasonal showstoppers, showcasing the best designers and producers, making it the perfect place to stop and start on this year's seasonal shopping. We look forward to welcoming both visitors and locals alike through its doors."
The Clan and Christmas shop, located at Stirling Castle's esplanade, is open until 31st December. Free parking is available for shoppers on the castle esplanade for up to one hour, however, car park staff must be notified upon arrival.
Costumed performers portraying Mairi de Guise and James V hang their stockings in the countdown to Christmas
All images are Crown Copyright Historic Scotland.
All information courtesy and copyright Historic Scotland.
Historic Scotland is an executive agency of the Scottish Government charged with safeguarding the nation's historic environment. The agency is fully accountable to Scottish Ministers and through them to the Scottish Parliament. For more information visit www.historic-scotland.gov.uk