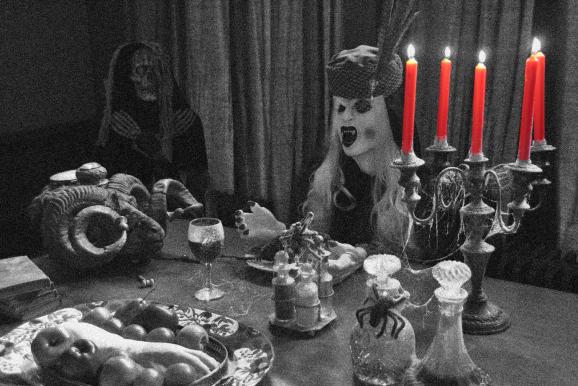 Are ye feart? Have ye suffered a fricht when things go dunt in the mirk? But dinnae fash yersel....
Apparently here's nothing wrong with a bit of fear, according to the experts – it keeps you alert and gives your heart a useful workout. Which means that Hallowe'en can have a very positive effect on young and old and why a visit to a National Trust for Scotland property could therefore be good for you?
Hallowe'en has pagan roots, then was used freely by many religions as a preparation for All Saints or All Hallow but now has a wider celebration. The fun element of the festivity is seen in Trust places across the country with many events scheduled on 26 and 27 October and beyond.
From spooky tours in and around Culzean Castle in the west, or Brodie Castle in the north, to going wild at Killiecrankie, they are all perfect venues for some kind of ghostly based fun. The Royal Burgh of Culross in Fife is not short of a witch or two, and they'll be inviting the unsuspecting into their cavern for treats after a tour of the town.
There are some great myths and legends to be explored, but some properties, such as Drum Castle near Banchory have famous links to exploit. The great traveller and author Washington Irving has family connections with the castle, and wrote the creepy tale 'The Legend of Sleepy Hollow' with its cast of ghosts and spectres. The short story will be read preparing visitors for some of the spine chilling experiences!! Looking down from his portrait on the wall Irving will probably have a wry smile on his face as the shrieks of disturbed spirits rattle around the atmospheric rooms. Like so many of the charity's properties, it is a natural place for hunting the haunted, with its medieval tower and secret chambers.
At nearby Crathes Castle, a team of professionals reckon they have some creepy individuals to uncover. Under the leadership of 'Nigel the Ninja Witch Catcher' there will be some serious spectre searching going on there. In fact the event is being created by the Argyll-based award winning 'Walking Theatre Company' who specialise in drama-on-the-move. They have a theme and a venue and create some magic around both, taking their audience on a fantastic journey.
The present building at Hill of Tarvit near Cupar has seen some family tragedies over the years – Hugh Sharpe died tragically in a rail crash, but the spookiness being offered there is possibly based on something much older.  John Wemyss of Unthank built a mansion on the site in the 17th Century, but was it a happy house? Students of the nearby Bell Baxter School will be leading visitors through the present building and are predicting some spine chilling experiences during their music and drama presentation.
The delight of the National Trust for Scotland is not just the range of buildings that are in its care, but it also has some wonderful gardens where youngsters can let off steam. Falkland Palace in Fife, for example, has some beautiful grounds, and the team there have planned an afternoon of ghost and ghoul chasing that should excite and exhaust most young detectives as they search clues on a clever outdoor hunt.
And some of its birthplace properties are marking Hallowe'en too – the Robert Burns Birthplace Museum in Alloway has natural links between the Bard and ghostly experiences, so the challenge is thrown out to hear some scary stories before visiting the haunted Auld Kirk! The David Livingstone Centre is one of several properties that are combining ghosts and creativity. There's a full weekend of events at the DLC in Blantyre followed by a Hallowe'en Hoot, all of which includes fun activities for young and old. Something more sedate appears to be on offer near Aberdeen at Haddo House, but don't be misled, the Children's Tea Party is actually hosted by Griselda the Witch! She'll doubtless be up to no good.
One of the more unusual characters to appear is the Raging Rabbit who goes on the rampage looking for your veggies in and around Castle Fraser in Aberdeenshire. While Newhailes near Edinburgh is the venue for the Mercat Tours company to 'spirit' you around this historic house, with tales of witches and curses! Holmwood House in Glasgow dubs itself the 'holm' of Hallowe'en. Dare you visit?
A recent campaign by the National Trust for Scotland focussed on its properties being family friendly, encouraging everyone to visit and enjoy Scotland's playground. Numerous properties have special child friendly facilities with many having adventure playgrounds or outdoor activities. So the opportunity to make the most of the Hallowe'en experience is not being missed and it underlines that history, conservation and fun can be happily combined. The best advice is to take a look at the very comprehensive National Trust for Scotland website for events near you, at www.nts.org.uk/events.
The National Trust for Scotland is one of Scotland's leading conservation charities, which relies on the financial support of its members and donors to fund its important work of caring for the natural and cultural heritage of Scotland for everyone to enjoy.
You can join the National Trust for Scotland for as little as £5.75 per month for a family. To become a member, visit http://www.nts.org.uk/Join/Benefits/.
All information contained herein courtesy and copyright the National Trust for Scotland.