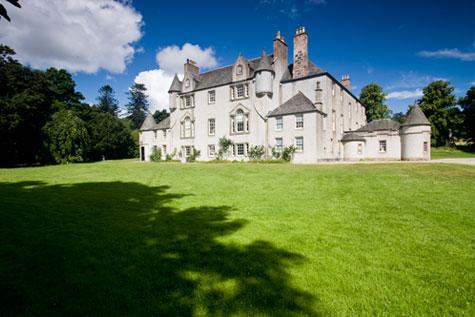 Recently, Leith Hall mansion house welcomed its first visitors in almost five years.
The historic house at the National Trust for Scotland property at Kennethmont near Huntly (northwest of Aberdeen) has been refurbished to improve its visitor and functions facilities ahead of its re-opening. It will be open on Fridays, Saturdays and Sundays from 11am until 5pm during the visitor season (Easter through the end of October).  It is also open for private events and functions.
Leith Hall, a typical Scottish Laird's house, was built over 300 years (starting in 1650). It is set on 286 acres, and has a 6 acre garden that is justly famous in its own right. There are also several trails to wander, including one up Craigfall Hill. Visitors can also see 18th century stables, and an ice house.
Leith Hall pond walk. Photo by: randomisation
Property Manager Christina Low said:
"We are ready to welcome visitors to this wonderful house once again. With grand interiors, wonderful artworks, and a fascinating military collection, the house is a true treasure and a wonderful place to explore. We hope that folk from near and far, bring a picnic, enjoy our glorious gardens, and grounds and rediscover Leith Hall and its charms."
The historic house was gifted to the conservation charity in 1945 by the Leith-Hay family. The grand house, which took three centuries to build, boasts a long and sometimes tormented history. Some say Leith Hall is haunted.
Work to re-open the house commenced in March 2013. The £500,000 project was made possible due to a generous donation made to the charity.  Leith Hall mansion house closed to the public in autumn 2008. The garden and estate have remained open to visitors throughout.
Learn more at
http://www.nts.org.uk/Property/Leith-Hall-Garden-Estate/#
Feature photo and information provided by National Trust for Scotland