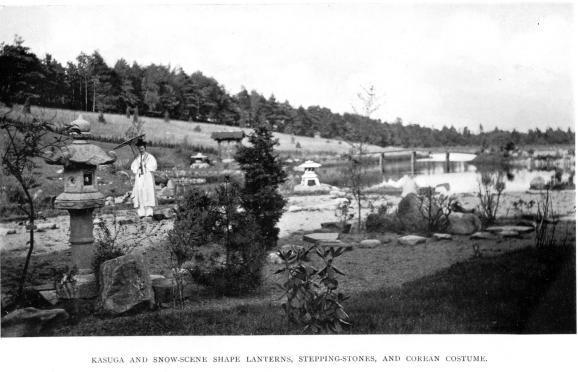 It is among the few surviving sites of its kind in the United Kingdom - and now the privately-owned, early twentieth century Japanese-style Garden at Cowden in Clackmannanshire has been recognised for its national importance as the most recent addition to Historic Scotland's Inventory of Gardens and Designed Landscapes.
The garden was created for the explorer Ella Christie (1861-1949), one of a handful of female pioneers who broke with traditional ideas about the role of women in order to mount ambitious solo expeditions around the globe.  Christie travelled widely in Asia and visited many countries including India, Ceylon, Malaya, China, Japan and Borneo.
In the spring of 1907, inspired and enchanted by the gardens of Kyoto and Tokyo,  Christie determined to create her own Japanese-style garden in the grounds of her home at Cowden Castle near Dollar in Clackmannanshire.
At this time, the British cultural love-affair with Japan was approaching its height. Garden-making was a popular manifestation of this trend, fuelled by the sudden availability of exotic plants, bulbs and ornaments – but  while many other Japanese-style gardens in Britain were a pastiche, or mis-match of elements, Cowden was distinguished from the start by the involvement of Japanese practitioners familiar with the history and complex nuances of Japanese garden design.
The garden was designed and maintained by the Japanese practitioners, Taki Handa and Professor Jijo Suzuki.  Centred on a long artificial lake, the garden incorporated elements of three traditional Japanese garden forms; a pond and island garden, a stroll garden and a tea-house garden.
Ideas of balance, proportion and sensory experience were prioritised as Handa carefully designed the routes of paths and stepping stones and the location of highly charged symbolic stones.
Cowden was celebrated in the 1930s as an especially authentic example of a Japanese-style garden in the West.  At this time, the gardens were cared for by a faithful Japanese gardener, Shinzaburo Matsuo, who lived and worked on-site until his death in 1937.
Sadly, the garden was vandalised in the 1960s and none of the original built structures have survived. However much of its essential form remains, including plantings, the plan and form and low-lying structures, including symbolic stones.
Elizabeth McCrone, Head of Listing and Designed Landscapes said:
"The story of Cowden is a fascinating one.  It was once described as the best Japanese garden in the Western world and was visited by Queen Mary in the late 1930s. It is of outstanding importance for its value as a work of art and its historic value, and also of high importance for its horticultural, nature conservation and archaeological value.
It came into being due to the determination of a remarkable woman, Ella Christie who named it Shāh-rak-uen, "a place of pleasure and delight."   I am delighted that her garden has recognition through its inclusion in the Inventory."
Sara Stewart, the current owner of Cowden said:  "It is wonderful to see that Cowden has been recognised in this way. While the gardens are not currently open to the public, we are considering a restoration programme and hope that we can welcome visitors back at some point in the future."
All information contained herein provided by Historic Scotland
Photos Crown Copyright Historic Scotland
Feature photo courtesy of Sara Stewart