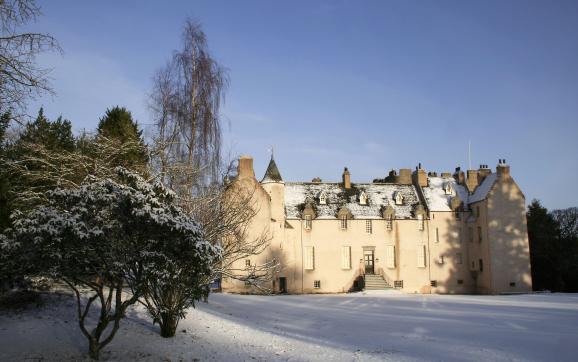 "Christmas is the season for kindling the fire of hospitality in the hall, the genial flame of charity in the heart." So wrote Washington Irving, the traveller and writer, and descendent of the Irvines of Drum Castle near Banchory – now a National Trust for Scotland property.
It's an appropriate link because many of the Trust properties provide that hospitality, and of course charity, of which he celebrates. They are the essence of Christmas past yet are the perfect locations for the whole family to enjoy Christmas present, including Drum itself.
Pick up some very special decorations, such as the unique traditional hand crafted holly wreaths being created at Drum Castle. Made from holly gathered from the estate grounds, no two will be exactly the same – the very essence of Christmas.
Drum is just one of several Trust properties holding Christmas fairs or craft events that will help solve those difficult present buying puzzles. Pop along on 7,8, 14 and 15 December for some festive fun.
And, there's no need to travel to Lapland for a glimpse of Santa and his reindeer this December - go to Holmwood House in Glasgow instead. He'll be visiting this handsome Alexander 'Greek' Thomson designed house with his team elves on 7, 8, 14 and 15 December.
Those Elves may well have trained at the Elf School based in the David Livingston Centre at Blantyre. There are always places there for trainees, who can earn themselves a certificate, make a gift and have a lot of fun. Trainees can sign up for sessions on 7,8,14 and 15 December here too.
Santa will be visiting several properties to gather Christmas present requests – so watch out for him.
Meanwhile, Mrs Claus is busy too. She is leading a team at the Robert Burns Birthplace Museum in Alloway, including the Christmas Tree Fairy and Gilbert the Reindeer Keeper, as they try to repair Santa's sleigh in time for Christmas. It's a fun mini pantomime that visitors can join and enjoy running on weekends from 7 until 22 December.
She's having a hectic time this year as she's in residence at the beautiful Pollok House in Glasgow until Christmas Eve – here she'll be meeting and greeting children by her cosy fire (but you do have to book online first – www.nts.org.uk/events).
As Ian McGreevy, the Property Manager explains: "You can visit Mrs Claus by her cosy fire in the Morning Room, then tour the rest of the house where the Pollok Teddies are busy preparing for Christmas!"
The fabulous Edwardian Kitchen will also be preparing some sumptuous seasonal food.
The buildings themselves offer such atmospheric venues for events especially when music is added, such as at the enchanting Hill House in Helensburgh. Here on 13 December, the local Oratorio Choir will perform traditional carols in the unique drawing room – a rare opportunity to see the Hill House after dark, and admire the talent of designer Charles Rennie Mackintosh. The house will also be open for festive fun on 7,8, 14 and 15 December.
To capture the essence of Christmas simply visit the National Trust for Scotland website for full details – www.nts.org.uk/christmas.  
All information and photos contained herein provided by the National Trust for Scotland - thank you!