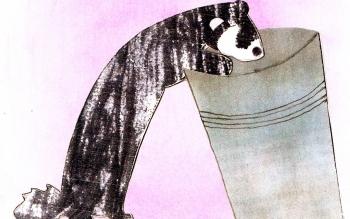 We LOVE Edinburgh Libraries. There's so much going on, all the time - besides books!
A special presentation at many of the library branches this summer is Bernard the Ferret - Happy to be himself, with the Spinoff Theatre Company.
 
"In this combination of a puppet show and workshop, you will have the chance to meet Bernard as he prepares for Norfolk's answer to the Ferret Olympics.
After the show, he will be hosting his own book signing.
The book and the show are two different stories.  The puppet making workshop is half an hour long, with a maximum of 30 children (adults are welcome to accompany) and it is helpful, although not essential, if you bring along an old, ferret coloured sock which you don't mind being chopped up!"
In conjunction with www.spinofftheatre.co.uk
To learn dates, locations, and reserve your spot, please see:
http://talesofonecity.wordpress.com/2012/07/24/introducing-bernard-the-ferret/