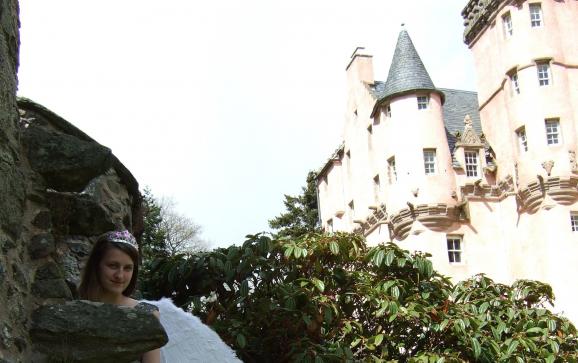 The National Trust for Scotland will bring fairytales to life in a spellbinding weekend marking 50 years of Trust conservation at Craigievar Castle near Alford on 7 and 8 September.
With its great tower and floating turrets, Craigievar is the ultimate fairytale castle. It was presented to the Trust in 1963 after 350 years of ownership by the Forbes family - and what better way to celebrate 50 years of happy ever after than by turning the castle into a living fairytale, complete with new stories for the Craigievar of 2013.
The stunning pink-hued castle which was completed in the 17th century is one of Scotland's most picturesque places and is rumoured to have provided the inspiration for Disney's famous pink castle. The castle's current presentation is attributed to the Lady Cecilia Sempill an important person in the early 20th century art world.
An exhibition of some of her more unusual art and ceramic collection gets underway soon.
After undergoing extensive repairs in 2008 and 2009, the castle, which was once the home of the Forbes-Sempill family, was officially re-opened by His Royal Highness the Prince Charles, the Duke of Rothesay in June 2010.
There are magic moments to discover at every turn this fairytale weekend as your favourite characters fill Craigievar corners with storytelling and performance. Catch Sleeping Beauty snoozing in one of the rooms upstairs, feed one of the three Billy Goats Gruff in the car park and enjoy a stroll to the cottage where you'll find the wicked witch from Hansel and Gretel ready to gobble you up.
However, this is 2013 and the fairytales have a modern spin for a castle in the modern day: find out what it was like for Granny inside the stomach of the wolf in Little Red Riding Hood and witness dramas unfold as Rapunzel texts her boyfriend from the tower.
Two new fairytales, written by the winners of a writing competition to find twenty-first century stories, will also get a premier.
Property Manager Alison Burke said: "What better way to celebrate our fairytale castle's golden anniversary as a Trust property than packing it with fictional folk from our favourite story books? But, we're bringing it up to date for the 21st Century with some interesting twists, turns and texts."  
Details:
12 noon till 4 pm on Saturday 7 and Sunday 8 September. Castle entry fees apply.
The National Trust for Scotland is one of Scotland's leading conservation charities, which relies on the financial support of its members and donors to fund its important work of caring for the natural and cultural heritage of Scotland for everyone to enjoy.
You can join the National Trust for Scotland for as little as £5.75 per month for a family. To become a member, visit http://www.nts.org.uk/Join/Benefits/.
All information contained herein provided by the National Trust for Scotland