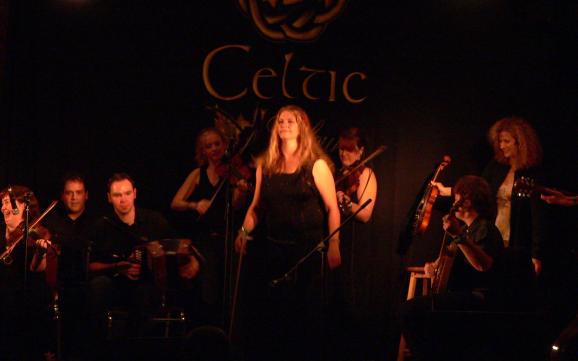 Cape Breton in the north of Nova Scotia in Atlantic Canada, is known for its strong Scottish heritage, and for how that heritage has evolved its own identity through meeting with crosscurrents of other cultures. Every year in mid October, Cape Bretoners celebrate this heritage through Celtic Colours, a festival centered on music, and they invite the world to join them.
This year, the theme of the Celtic Colours International Festival is islands. The festival will welcome artists from islands all over the Celtic world. The 16th edition of the nine-day, island-wide celebration gets underway October 5th at the Port Hawkesbury Civic Centre and wraps up on the 13th at Sydney's Centre 200.
"We're very excited to be bringing you The Chieftains who are on their 50th anniversary tour, our own Natalie MacMaster, Fiddlers' Bid from Shetland, and the Battlefield Band from Scotland, along with our Artists in Residence — Irish guitarist, singer and songwriter John Doyle and Cape Breton singer-songwriter Cyril MacPhee," said Artistic Director Joella Foulds. Those a just a few of the artists who will join in this year's celebration.
Celtic Colours 2012 artist in residence John Doyle
Celtic Colours is a welcoming festival, with concerts held across the island in venues ranging from churches to schools to concert halls to small community centers. Each concert is typically an ambassador concert of sorts, too: there are usually three or four artists and bands on the bill of an evening, who all do sets on their own and then join up for a finale.
This year there will be the Roots to the Future project, too, and a concert dedicated to Cape Breton songs of work and protest.  Community Cultural Experiences beyond the concerts make up a lively part of the festival, as well, and there's a full complement of those on the schedule, including dances, meals, sessions, workshops, lectures, exhibits, outdoor activities and the always popular after hours festival club, where music may keep playing until dawn.
Mary Jane Lamond and Wendy MacIsaac, Kathleen MacInnes, JP Cormier, The Once, Men of the Deeps, Andrea Beaton, Kimberley Fraser, and Nuala Kennedy are a but a few of the artists who will  be sharing their music at Celtic Colours this year.
All photos courtesy and copyright Kerry Dexter
Feature photo: Andrea Beaton hands off her fiddle for the moment and comes forward to step dance at a finale of a Celtic Colours concert at Big Pond