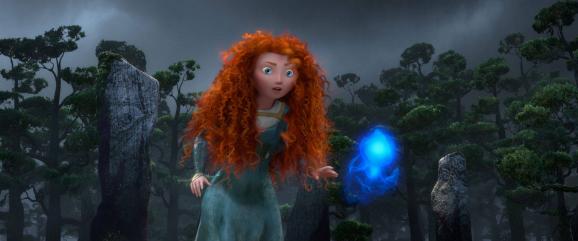 BRAVE, the new Disney-Pixar princess movie, is the story of a girl by the name of Merida, the princess of a Scottish clan, whose plans for her life are very different from her mother's. When it comes to time to select a husband from the first born of the other three allied clans, she must make a choice that will change her fate. Things don't go as planned and she begins an adventure that changes her life and her view of the world. But will she be in time to save her family and her country?
An exciting, funny, and sweet movie about a young woman making her way in the world with a refreshing lack of romance, BRAVE is a great family movie as well. The elements of Scottish culture woven into the movie add to the story. The scenery alone draws you in and sets the tone for the movie. The green hills, misty skies, sharp rock faces, and towering trees bring an air of beauty and mystery. I haven't been to Scotland in person but I almost feel I have after having seen the movie. Family clans and legends of will-o'-the-wisps also play a part and little details like family kilts and haggis at the dinner table add humor and interest to the movie.
My friends, family, and I all enjoyed the movie. There's pretty much something for everybody. Ten out of ten points, in my opinion!
Kathryn Blanco is a member of the Wandering Educators Youth Travel Blogging Mentorship program.
You can find more of her writing at http://www.wanderingeducators.com/blog/kathryn-blanco
Want to read more about Brave?
from Scotland: Brave the movie, Julie Fowlis, and music, at Music Road
Five Reasons Why Brave is the Best Family Movie of the Year, at Reel Life with Jane