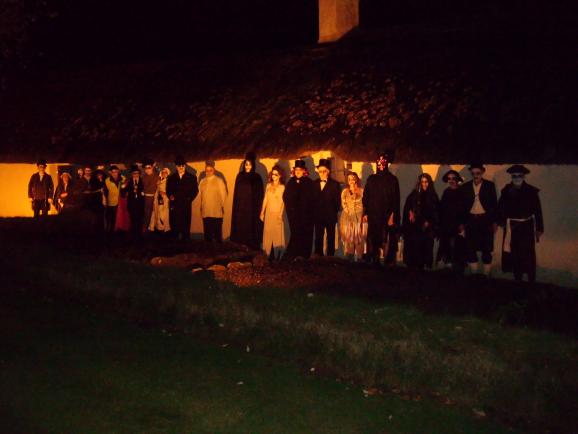 Scary stories, ghoulish ghost tours and wyrd walks for all ages will make the National Trust for Scotland's atmospheric castles, gardens and woodlands the place to hang out this Halloween.
 
The conservation charity has scores of spooky events planned for All Hallow's Eve - many inspired by the horrible histories of the charity's heritage sites, like: 
· Alloween – experience the chilling atmosphere of the Auld Kirk, where Tam o'Shanter is said to have seen the devil during this after dark tour of the town where Robert Burns was born.
· Little Witches and Wizards – 17th century Culross was a dark place, in the grip of witch hunts. This history has (loosely) inspired the spooky stories for this fun event aimed at younger visitors at the quaint burgh's historic palace. 
· Crathes Castle's ghoulish ghost tours – over the centuries there have been plenty of spooky sights and sounds to inspire these gripping ghost tours.   
Marketing Manager Carly Lamberty said: "The heritage in our care is full of dark tales, so when it comes to Halloween, the Trust has plenty of raw material to take its inspiration from. Whether it's Fyvie's Grey and Green ladies, Culzean's ballgowned apparitions, or Greenbank Garden's ghost dog, there are more than enough spooky stories to add extra atmosphere and authenticity to the Halloween experience."
 
It is not just palaces and castles that are hosting Halloween fun. The Trust's countryside and woodland is also getting ready for ghosts and ghouls.  
 
One of the highlights of the Halloween weekend is an outdoor screening of cult horror move The Blair Witch Project in the ancient wood surrounding Crathes Castle in Aberdeenshire.
 
Wild Halloween sets off from Killiecrankie Visitor Centre in search of witches, on a walk through Perthshire's ancient trees, full of whispers and the echoes of Jacobite battles. 

 
For a taste of Scottish Halloween traditions, Threave garden will have guising, apple dooking and neep lanterns ready to light.
 
For the full programme and advance booking (essential), visit www.nts.org.uk. 
 
To help friends and families make perfectly pitched Halloween plans, the Trust has put together this guide to its Halloween events, using a special supernatural rating for its spookiness level - 3 ghosts means it is for braver visitors, while 1 ghost means it is family-friendly.
 
Spirits of the Tenements
Thu 27 Oct
Tenement House, Glasgow
An evening tour of the Tenement House followed by a performance by 'Murray the Mindreader' in the gas-lit parlour.
Enter the close and ascend the stairs to find yourself back in the era of the fortune tellers and mediums of late Victorian and early 20th century Glasgow. Murray, a professional mindreader, astrologer and psychic will demonstrate techniques used by the fortune tellers of the time, including tricks, palmistry and crystal gazing. ADULTS ONLY
 
Newhailes Hallowe'en with Mercat Tours
Fri 28 Oct - Sun 30 Oct
Newhailes
See another side of this beautiful house as darkness falls and your guide chills you to the core with sinister tales of curses and witches. 
 
Halloween Tours with Mercat Tours
Mon 28, 29 + 31 Oct 
Georgian House, Edinburgh
Explore Edinburgh's Georgian House with exclusive night-time access, in partnership with Mercat tours. Hear tales of gore and misdeeds in the heart of Edinburgh's New Town and delve into the tragic past of former owners, the Lamont family.
 
Ghoulish Ghost Tours
Fri 28 Oct - Mon 31 Oct 
Crathes Castle, Garden & Estate near Banchory
Join us for some ghostly goings on at Crathes this Halloween. This ghoulish ghost tour comes with a warning – be prepared to be scared!
 
Light into Dark
Sat 29 Oct - Sun 30 Oct 
Culzean Castle & Country Park, Ayrshire
Come to Culzean for a spooky Halloween walk in the dark. Who knows what or who we might meet along the way! From vampires to witches, smugglers to Sawney Bean are you brave enough to join us on light into dark? 
 
Film Fright Night
Sat 29 Oct 
Crathes Castle, Garden & Estate, near Banchory
Come to Crathes for an outdoor night-time screening of The Blair Witch Project...guaranteed to be the scariest Halloween ever! Over 18s only.
 
The 'Holm of Halloween' presents: Witches & Warlocks!
Sat 29 Oct - Sun 30 Oct 
Holmwood, Glasgow
Holmwood presents a fresh instalment in its long-running series of Halloween events - this year's theme is "Witches & Warlocks!" Spooky storytelling, apple dookin' and the chance to explore the Haunted Garden. 
 
The Haunted Castle
Mon 31 Oct 
Culzean Castle & Country Park, Ayrshire
Who's brave enough to enter the Haunted Castle?  With the lights out and the shutters closed who knows who or what might appear!  The tour is followed by soup, cake and hot drinks.
 
Alloween
Sat 29 Oct 
Robert Burns Birthplace Museum, Ayrshire
Follow a 'ghostly guide' on a tour of the Bard's birthplace and Alloway's Auld Haunted Kirk.
Image result for ghost emoji (family fun)
Wild Hallowe'en
Sat 29 Oct 
Killiecrankie, Perthshire
Enjoy a spooky walk at Killiecrankie, see what our resident witch is brewing and which woodland creatures are brave enough to join her.  Small prizes for the best Hallowe'en costume!
 
Children's Traditional Scottish Hallowe'en
29 Oct - Sun 30 Oct 
Crathes Castle, Garden & Estate, near Banchory 
Visit Crathes for a traditional Scottish Hallowe'en experience. Come dressed for guising, get ready to make a  tattie boggle and try and can you trick your way into the castle for a ghostly tour!
 
Halloween at Threave Garden
Fri 28 Oct 
Threave Garden and Estate, Dumfries and Galloway
Spooky fun for all the family with apple-dooking, guising, turnip lanterns and a fireworks finale.
 
The Little Witches and Wizards of Culross hunt for Pesky Pirates at the Palace
Sat 29 Oct 
Royal Burgh of Culross, Fife
The good little Witches and Wizards of Culross are fed up being accused of everything that goes wrong in the town! Time to find out who's been pinching the Scots Dumpy Hens' food from the Orchard, before they get put in prison again! Rumours in the town say it could be a pesky Pirate? Join our Witches and Wizards at Culross this Halloween for a "witch hunt" with a difference!
 
Zoolab Halloween
Sat 29 Oct 
Fyvie Castle, Aberdeenshire
Experience all sorts of creepy crawlies at Fyvie Castle. Zoolab is returning to Fyvie Castle for Halloween! Get spooked in the racquets court with ghostly stories of strange creatures then you can go and meet them for yourself with the Zoolab Ranger. 
 
Witches and Wizards
Sat 29 Oct - Sun 30 Oct 
Kellie Castle & Garden, Fife
Calling all witches and wizards to fly to Kellie Castle and Garden for a spooky spellbound adventure.
 
Halloween Trail
Sat 29 Oct - Sun 30 Oct 
Geilston Garden, Dunbartonshire
Halloween fun trail for children, with lots of spooky surprises!. Follow the trail clues around the garden: can you find all the spooky surprises? Not too scary: suitable for young children! Small sweet prize for completing the trail.
 
Mad Hatter's Halloween Tea Party
Sat 29 Oct - Sun 30 Oct 
Robert Burns Birthplace Museum, Ayrshire
Don't be late for a very important date! Join Alice and her friends at our spooky Mad Hatter's Halloween Tea Party and be presented with a feast of colourful cakes, drink me potions and all things Alice in Wonderland. You can even have your face painted as your favourite character!
 
Halloween Party
Sat 29 Oct 
Glencoe Visitor Centre, Lochaber  
Welcoming all witches, wizards and ghouls! Join the Glencoe Young Naturalists Club for a spooky afternoon of Halloween fun. Don't forget to come in fancy dress!
 
Spooky Halloween Trail & Crafts
Sat 29 Oct - Sun 30 Oct 
Newhailes, Musselburgh
Come to the Stables Courtyard to start your spooky trail and afterwards join in on some crafty fun! Fancy dress with wellies and waterproofs encouraged.
 
Wickedly Wonky Chocolate Challenge
Sat 29 Oct - Sun 30 Oct 
Castle Fraser, Garden & Estate, Aberdeenshire
There's chocolate and gobstoppers and sweeties galore; There's challenges to be done and rooms to explore!
Do you have what it takes to earn your ticket of gold? Can you create the most lavish candy to behold?!
The castle is home to the Wickedly Wonky today; There's fun to be had – what more can we say.
There's more than just chocolate for you to see;  So come on down for Halloween with me!
 
Halloween at Brodie Castle, Moray
Sat 29 Oct - Sun 30 Oct 
A spooktacular fun-filled Halloween weekend.
 
Halloween at Hill O'Tarvit, Fife
Sun 30 Oct 
We'll be opening the doors of the house for a Halloween Celebration. There'll be ghostly games, creepy crafts, spooky stories, and treats (and a few tricks) galore! We'll also be concocting a special Conservatory Tearoom menu - it's going to be devilishly delicious!  Prizes for those who "dare to scare" with an award for the best creepy or crazy costumes!
 
The Skull-ery Maid's Halloween Party
Sun 30 Oct 
Pollok House, Glasgow
Join us for our Halloween trail, crafting, face painting and spooky treats. Can you find the password and enter the Skull-ery Maid's secret party?  She has prepared spooky treats, face painting fun and creepy crafting for everyone.
 
 
The National Trust for Scotland is one of Scotland's leading conservation charities, which relies on the financial support of its members and donors to fund its important work of caring for the natural and cultural heritage of Scotland for everyone to enjoy.
 
You can join the National Trust for Scotland for as little as £7 per month for a family. To become a member, visit http://www.nts.org.uk/Join/Benefits/.
 
You can make a difference and help protect everything in our care. Donate online at https://www.nts.org.uk/Donations/
 
All information and photos herein provided by the National Trust for Scotland