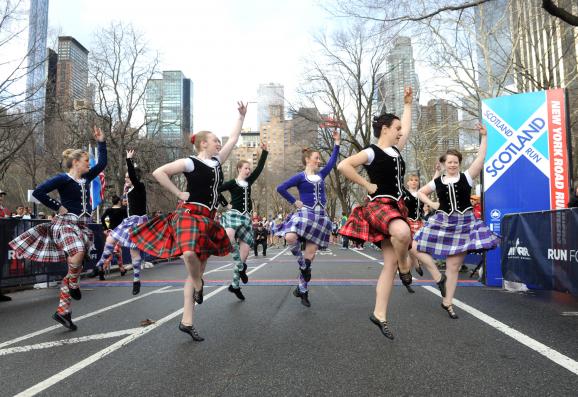 Festive Events Include 10k Race with Runners in Kilts; Family-friendly festival; Scottish Music Performances, the Tartan Day Parade and More
From Saturday, April 2 through Sunday, April 10, New York will be filled with events that celebrate Scottish culture, heritage, and food and drink as the 13th annual Scotland Week gets underway.  From 10k runs to musical performances and parades, Scotland Week celebrates all things Scottish and invites New Yorkers to embrace their inner Scot.
To allow everyone in North America to show Scotland some love, About Scotland is also hosting a "Scotland Selfie" campaign, which launched today. 
People can upload photos of themselves in their favorite Scottish attire through the Scotland.org website or post to @AboutScotland on either Twitter or Instagram and include the hashtag #ScotWeek.
On Tartan Day, April 6, the images will be used to create the world's largest online Scottish flag.
Following is a listing of Scotland Week events.  For information on additional events taking place during Scotland Week, please visit http://www.scotland.org/scotland-week/
Saturday, April 2
2016 Scotland Run and Second NYRR Youth Running Series (FREE)
New York turns tartan on April 2!  Join the fun as a runner or just come out and cheer on the participants.  The race, an official qualifying run for the New York Marathon, operated by New York Road Runners (NYRR), attracts runners from across the globe – many outfitted in kilts, colorful plaid and painted faces – as they run to the beat of bagpipers playing traditional Scottish tunes along a 6.2-mile loop in Central Park.
New York Road Runners is hosting its second Youth Running Series for Scotland Week.  Runners ages 7-18 can join in the fun and participate in a 1.6-mile run through Central Park.
Spectators can also partake in face painting, enjoy a DJ spinning popular tunes, and a raffle for fun prizes.
Adult run starting line is on West Drive near 62nd Street in Central Park
Adult finish line is on West Drive near 67th Street in Central Park
Youth run starting line is on West Drive near 67th Street in Central Park.
Youth finish line is on West Drive near 69th Street in Central Park.
http://www.nyrr.org/races-and-events/2016/scotland-run-10k
Run begins approximately 8:00a.m.
________________________________________
Wednesday, April 6 – Sunday, April 10
Lunchtime Concerts in Bryant Park (FREE)
Lunch time concerts featuring Scottish pipers, singers and poetry readings will take place on Bryant Park's Fountain Terrace during Scotland Week.   Highlights include the Edinburgh Academy Pipes and Drums on Tartan Day, April 6; Hannah Read, a modern folk songwriter and instrumentalist; Highland dancers; and many pipe bands.
Fountain Terrace at Bryant Park, at park entrance at 41st Street and 6th Avenue
http://americanscottishfoundation.com/tartanday/tartan_events.html
Hours: Times vary daily between 11:30-1:00pm; check website for daily schedule
________________________________________
 
Tuesday, April 5
The Scots Who Built New York
Guests will be welcomed by Caroline Baumann, Director, Cooper Hewitt. John Kinnear, Historian, Architect and President of American Friends of the Georgian Group, will give an illustrated talk about the life and legacy of philanthropist and industrialist Andrew Carnegie.  Malcolm Roughead, OBE, Chief Executive of VisitScotland, will address those present on "Scotland Today."  A reception follows.
Cooper Hewitt, Smithsonian Design Museum
2 East 91st Street
http://www.cooperhewitt.org/event/the-scots-who-built-new-york-the-carne...
Hours: 6:30-8:30p.m.
Admission:  Ticket price is $40
________________________________________
Wednesday, April 6-Sunday, April 10
Tartan Day on Ellis Island (FREE)
Tartan Day on Ellis Island is one of the principal Scottish heritage events in the United States. The event debuted in 2002 and is presented free-of-charge to the general public by the Clan Currie Society.  This year it features a new exhibition on John Muir, a Scottish-American naturalist, author, environmental philosopher and early advocate of preservation of wilderness in the United States who founded the Sierra Club. His letters, essays, and books telling of his adventures in nature, especially in the Sierra Nevada of California, have been read by millions. His activism helped to preserve the Yosemite Valley, Sequoia National Park and other wilderness areas.  Tartan Day on Ellis Island will play host to some of the finest Scottish entertainment in New York City, including a whole host of Scottish entertainers, traditional musicians and John the Kilted Juggler.
Ellis Island Immigration Museum
Ellis Island
http://tartandayonellisisland.com/program/
Hours:  First ferry departs mainland at 8:00a.m.; last ferry departs Ellis Island 6:45p.m.
________________________________________
Thursday, April 7
Little Fire in Concert (FREE).
Jamie McGeechan, known as Little Fire, is a singer-songwriter and guitar player who hails from Ayeshire, Scotland.  He will be performing his blend of folk, American pop and alternative country music live at St. Andrew's Pub.   No cover charge.
 St. Andrews Pub
140 W. 46th Street
Hours:  8:00p.m.
________________________________________
Thursday, April 7
The Highland Divas in Concert
Georgia, Margaret, and Marla are The Highland Divas: Two Scots and a Kiwi. Three women, from different parts of the world, who share a common heritage. These uniquely talented artists take guests on a musical journey that spans the folk music of Scotland, Ireland and New Zealand and culminates in the soaring heights of Rock Opera. A journey from achingly spare Celtic and Traditional Scottish ballads, to the most thrilling, harmonized interpretations of popular and classical music.
The Cutting Room
44 East 32nd Street
http://tickets.thecuttingroomnyc.com/event/1120093-highland-divas-new-york/
Hours:  Doors open at 9:30p.m., show starts at 10:00p.m.
Admission:  $25 in advance; $30 at the door; $20 food and drink minimum
________________________________________
Friday, April 8
New York Caledonian Club Pre-Parade Ceilidh
Join the New York Caledonia Club for Scottish entertainment and music, dancing, food and refreshment.
Abigail Adams Auditorium
417 East 61st Street, New York City
http://www.nycaledonian.org/events.php
Hours:  7:00p.m.
________________________________________
Friday, April 8
Laura McGhee Live at St. Andrew's
Celtic/country artist & fiddle player Laura McGhee, from Dundee, Scotland will be performing at St. Andrew's Pub. Laura's music is a hybrid of influences from her Celtic roots to country and Americana.  She recently released  and  EP, "How Leaving Feels," that chronicles her journey.
St. Andrew's Pub
140 W. 46th Street
http://nyctartanweek.org/event/laura-mcghee-live-at-st-andrews/
Hours:  9:00p.m.
No cover charge
________________________________________
Saturday, April 9
2016 Tartan Day Parade
The 18th annual Tartan Day Parade takes place on April 9 and is a highlight of the Scotland Week festivities.  Led by Grand Marshal, Outlander's Sam Heughan, the parade will bring together pipers and drummers from all over the world in a celebration of the contribution made to the USA by the Scots.
Parade begins on 6th Avenue at W 45th Street and proceeds up 6th Avenue to 55th Street
http://www.americanscottishfoundation.com/tartanDay/index.html
Parade begins at 2:00p.m.
Those wishing to march must pre-register with the American Scottish Foundation
About Scotland Week 2016 - #scotweek
•    Every year in the USA and Canada thousands of people come together to celebrate Scotland Week, the annual celebration of all things Scottish.
•    Scotland Week 2016 runs from Saturday 2nd – Saturday 9th April, spanning Tartan Day on 6th April.
•    Scotland Week 2016 comprises business, cultural, tourism and media engagements for Scottish Government Ministers, business leaders, and key industry stakeholders.  
•    A special "Scotland Week Saltire Selfie" promotion will run on @AboutScotland from March 21 through Tartan Day, April 6 and allow fans of Scotland across North America to share their Scottish pride.
•    Full details of the Scotland Week program can be found at www.scotland.org/scotlandweek
All information contained herein provided by About Scotland.