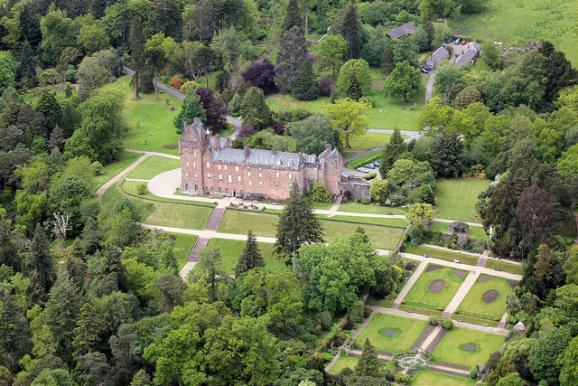 A fantastic new play experience for younger visitors to the National Trust for Scotland's Brodick Castle and Country Park opens on 1 July, as the summer holidays begin.
Isle Be Wild takes its inspiration from Arran's rich natural heritage to create a unique play area for children of all ages. With its rugged appearance, it fits into the estate's woodland area and encourages outdoor adventure.
Stuart Maxwell, General Manager for the National Trust for Scotland in Ayrshire and Arran said:
"Brodick Castle and Country Park is one of Scotland's treasures and the Trust is investing to encourage more families to have unforgettable experiences, all set in Arran's spectacular scenery. Isle Be Wild is a great addition to the estate and we hope will encourage families from Arran and beyond to come back to Brodick and find out what we've got planned for the future."
Isle be Wild is part of an investment of more than £2 million at the historic Arran estate which has been in the care of Scotland's largest conservation charity since the late 50s.
New garden features and improved signage and trails are also being installed throughout the estate. Extensive works are underway in the castle at the moment, designed to improve the safety of the nationally-recognised collection of stunning artworks, furniture and textiles. The castle is closed while this takes place and is due to re-open in spring 2018.
Brodick Castle and Country Park is the quintessential Victorian 'Highland' estate. Dramatically set against the backdrop of Goatfell Mountain, the grand castle has stunning views over Brodick Bay to the Firth of Clyde. Out in the estate, there are miles of woodland walks to explore, with native plants trees and wildlife in abundance.
Photos: local kids from Arran enjoyed a preview of Isle Be Wild on Wednesday 28 June. All information and photos courtesy and copyright National Trust for Scotland
The National Trust for Scotland is the charity that celebrates and protects Scotland's heritage. It relies on the support of its members and donors to carry out its important work of caring for the natural and built heritage of Scotland for everyone to enjoy.